The You're Next challenge winner is here!
230 designs /
1

printed

design

/ 75,693 votes placed
The challenge was
Design a tee featuring a masked maniac.
Revered as one of the sharpest and most horrifying films in years, You're Next reimagines the home invasion horror genre in a fresh, twisted light. When the Davison clan retreats to a remote vacation home in the woods, their family reunion takes a grisly turn. A team of ax-wielding, animal-masked psychopaths begins hunting down family members one by one, and the body count quickly rises until an unexpected houseguest fights back.

We're stoked for this sure-to-be stellar summer slasher flick, described by reviewers as a mashup of Scream, Die Hard, and Home Alone. And we want you to take inspiration from its chilling creatures for your next design.

We challenge you to make a killer tee inspired by masked maniacs. Pull from the delightfully dark animal imagery of the masked mugs below, or imagine a dysfunctional family get-together gone gruesome. We encourage you to use imagery from the film, but we'll also welcome any macabre masked madmen. Just steer clear of established baddies like Jason or Michael Myers.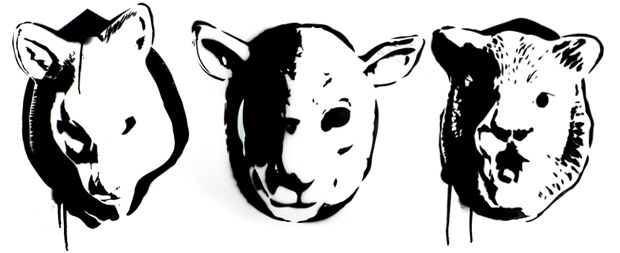 Now get out your sketch pads and start slashing! Who'll be printed? Maybe You're Next…
Challenge Details
$2,000 cash

$500 Threadless Gift Certificate

6-poster set (including one signed by director Adam Wingard, writer Simon Barrett, and star Sharni Vinson)

All 3 masks seen in film

A Lionsgate Horror 10-BluRay set

Other designs chosen for print from this challenge will receive compensation based on the product printed on & the quantity printed.
Designs from this challenge
You're Next
One of the smartest and most terrifying films in years, You're Next reinvents the genre by putting a fresh twist on home-invasion horror. When a gang of masked, ax-wielding murderers descends upon the Davison family reunion, the hapless victims seem trapped . . . until an unlikely guest of the family proves to be the most talented killer of all.
www.facebook.com/YoureNextTheMovie