The The Big Lebowski challenge winner is here!
293 designs /
1

printed

design

/ 78,720 votes placed
The challenge was
Create a design inspired by The Big Lebowski.
Achievers!
Sometimes, there's a man, well, he's the man for his time and place. He fits right in there. And that's The Dude. And we want you to design a tee about him!
We, as in "the royal we," want you to harness the power of the dude to create a design that really ties the room together. Design a tee inspired by anything from The Dude's favorite drink to Walter's wild temper, The Jesus' jumpsuit, or even Jackie Treehorn's garden parties.
The winning designer will receive $4,000 bones or clams or whatever you call them.
You've only got three weeks (even less than that if you don't work on Shabbos), so grab an oat soda and get started! Your design just might get you into the semis.
Smokey, this is not 'Nam. This is bowling. There are rules.

Use your original artwork.
You can use aspects of any characters from the movie, but actor likeness is not allowed. Don't get the difference? Check out our examples below.
Keeping wildlife, an amphibious rodent, for uh, domestic, you know, within the city—that ain't legal either.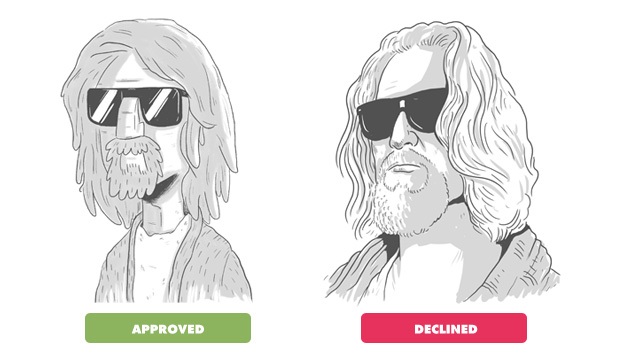 Challenge Details
$4000 cash

$500 Threadless gift certificate

A swag pack including rare and collectible Big Lebowski prizes

Other designs chosen for print from this challenge will receive compensation based on the product printed on & the quantity printed.
Designs from this challenge
The Big Lebowski
From the Academy Award®-winning Coen brothers, The Big Lebowski is a hilariously quirky comedy about bowling, a severed toe, White Russians and a guy named...The Dude. Jeff "The Dude" Lebowski doesn't want any drama in his life...heck, he can't even be bothered with a job. But, he must embark on a quest with his bowling buddies after his rug is destroyed in a twisted case of mistaken identity.
The Big Lebowski is a trademark and copyright of Universal Studios. Licensed by Universal Studios Licensing LLC. All Rights Reserved.