$25

$9.95

Threadless Womens Sublimation Dolman

100% Polyester Fine Jersey, Dye Sublimation Printed. Fits oversized, but true to size. Wear with high waisted skirts or pants or when you don't feel like wearing a plain tee. Made in USA.

Multicolor Regular Fit size info
The process used to make this tee can create minor printing imperfections, most likely around the neck or underarm areas.
Return Policy
This product is custom printed especially for you, as soon as you order it. We want to ensure this new order fulfillment and production process will give you products you love. So we triple check every step along the way to guarantee their quality. Although we cannot accept returns on these custom printed products, we'll happily replace items that arrive damaged or if the quality is unsatisfactory.
About the artist

Nickname

Hometown

il
About the design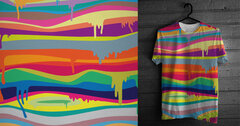 Average score:

3.25 out of 5

Scored by:

668 people
Garments printed with: all-over belt printing