Mysterio Is Watching...
Design by AZRHON
$27

Threadless Mens Tee

Natural Regular Fit size info
S

sold out

M

sold out

L

sold out

XL

sold out

2XL

sold out
Return Policy
This product is custom printed especially for you, as soon as you order it. We want to ensure this new order fulfillment and production process will give you products you love. So we triple check every step along the way to guarantee their quality. Although we cannot accept returns on these custom printed products, we'll happily replace items that arrive damaged or if the quality is unsatisfactory.
About the artist

Name

Nickname

aka azrhon

Hometown

Cebu, PH
About the design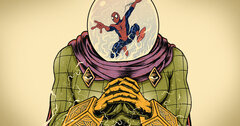 Average score:

2.99 out of 5

Scored by:

454 people
This is one of the chosen designs from the Spider-Man Design Challenge.