My dribbble subs - Coffee Rocket, Sink or Swim, Flying Hare Pet Salon. Revs before Threadless?
I have not had a lot of time to try and get my ideas for the dribbble contest worked on but today I finally got 2 of them at least sketched out on post-it notes. What do you think?
I finished up Sink or Swim - Vote Here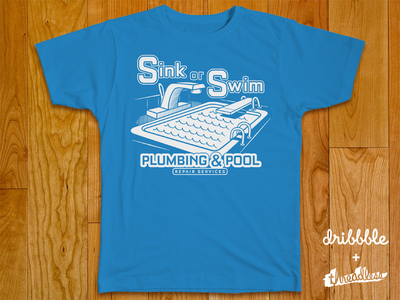 Ok I'm going with this version. Rev 3 - Vote Here

---
Coffee Rocket art Rev 2 - Simplified and beefed up the lines.


Presentation

My progress on Coffee Rocket. I'm not sure I like how it is going but I'm tired and was probably messing more up on it than actually doing it right. I might try to do Sink or Swim tomorrow then go back to this one before the deadline.

Sink or Swim Plumbing & Pool Services


idea: it is a company that does both Plumbing and Pool repair services. I thought the name was a good pun and might make a funny illustration.
COFFEE ROCKET - espresso bar & pub


idea: coffee mug on a rocket with an espresso bean planet (w/ rings) and cool type surrounding it. Probably on a brown or black shirt.
---
Dinosaur Radio Repair


idea: T-Rex crushing an Old School Boom Box in its mouth. Type treatment of the words "Dinosaur Radio Repair" would be added around the illustration in some way. Probably on a green shirt.