THREADDIES (#8) - Your weekly dosage of Threadless: UNSCRIPTED.

~~~~~~~~~~~ CHECK OUT PAST ISSUES: [ #1 | #2 | #3 | #4 | #5 | #6 | #7 ] ~~~~~~~~~~~


CHRISTIAN'S WORD OF THE WEEK
sang-froid
(sahn-frwa)
(noun)Calmness, especially under stress.
EXAMPLE:
"RyderRevolution strode through the streets of Albuquerque, looking for his next conquest, with his legendary sang-froid."
WINEBOCON!


(Photo: Craig Shimala)
I had the pleasure of attending Winebocon 2013 this year in Santa Barbara, CA a couple weekends ago (an amazing Threadvent run by killer Threadless Ambassador, Priscilla.) Wow, first off the weather was perfect (70s and sunny - just look at Dan's v-neck tan)... but best of all, the people. Reuniting with old friends and meeting/making new ones is always the best part of Threadmeetups. I wish these meetups happened EVERY week (okay, maybe every 6 months realistically). But, big thanks to Priscilla, Threadless, and everyone that made this weekend possible. I encourage EVERYONE to attend next year for good laughs, good people, and good times.
Check out these blogs for some winebocon recaps and pictures! :)
Threadless LOVES PORTLAND!


(L-R: Ross, Rachel, Dustin, Craig, Jake, Wilson)
Threadless headed over to Portland a couple weekends ago, to party and more importantly, showcase four AMAZING Portland artists in honor of their recent made-bys. This included Will Bryant, Mary-Kate McDevitt, Brian Cook, and Meg Hunt.
I asked Dustin to give me his perspective on the whole event...
"Portland was a great opportunity for Threadstaff to flee Chicago and hang out with West Coast community folk and Made artists in real life. It was also an awesome chance for us to get out there and actually do some making with our hands. I personally spent four hours straight using a heat gun to dry ink on freshly screen printed objects that people brought from home. It was definitely rad to tag along with Craig while he filmed interview footage of Will Bryant in his studio. Also, Chengui!... and, i did not blarf, so I've got that going for me, which is nice."

(Photo: Dustin)
Bonus videos!
- Jake screenprinting his chest (lolwut)
- Brian Cook interview
Check out more photos from the Portland Photobooth on the Threadless Facebook!
MAKE SOMETHING COOL! EVERYDAY!

Threadstaff Alex Solis is making something COOL everyday for the month of March and is encouraging YOU to join him! Doesn't have to be an extravagant drawing or sculpture... just channel your creativity and just keep making! Check out his Banana Kayak above! And click on the photo to go to the blog and join in on the fun!
The people have spoken and have chosen Morkki's A World United in Cheese as the bloggerraiser tee! Support this cause as 25% of EACH sale goes towards the Bloggerraiser fundraiser. Help us send some threadfans to the August meetup!
(Meetup date: AUGUST 17!)
xXx: State of the Union
This movie is definitely going to take all of the awards this trophy giving seasons! Watch out the Ascars, Emmys, Academic Awards, Teen Choose Rewards, and Nickelodeon Kids Matter about Opinions Award, xXx is coming and he's ready to make you scared! Iceman from the X group stars in this film about violence in his first solo debut. Going into this movie, I was expecting some powerful and moving hardcore sex scenes, but in the end I was most moved by Iceman's courage for justice. He is so strong, and he has great sass of a black man. If this movie was a date, I would take it to cheesecake factory.
Alpha Dog
This movie (if you even want to call it that) can be summed up in 3 words "WHAT DOG ?" Famous sexman Jason Timberjohns stars alongside blue collar dad Brug Williams in this true story based on facts. A small group of teen whites decide to take a small baby white for a sex trip, he is very scared and so is the police. When will Alpha dog come to save the baby and teach lessons about how drugs are bad? Who are these teen white's parents, do they not beat them? So many questions, but I have no answers (just like the SATs). This movie could be classified as a thriller because it leaves you in suspense for seeing the Alpha Dog, but I classify it as a disappointment :|. Spend your tickets moneys on a real movie like Sex City 2 (or shoes, if you're like me. I'm such a Miranda!) If this movie was a date, i would take it to the gas station and leave it there.
Hotel Rwanda
This sequel to Hotel for Dogs was a major disappointment. Two guys named Hutu and Tutsi get in a fight and then everyone has to live in a nice hotel. Starring famous Iron Man friend Tom Cheadles and his family(?) will leave you asking yourself "why there were no dogs?" It seems as though the director was simply riding on the shirt tails of the lucrative "Hotel" childrens movie franchise (Hotel for Dogs, Hotel Transylvania, Dunston Checks In). But they failed, I wouldn't take my kids to watch this movie, even if you told me that there was a way to get pizza delivered to my seat at the theater. If this movie was a date, we'd go to the theme park but I'd have an attitude the entire time.
KICKSTART A FELLOW COMMUNITY MEMBER!!
You've seen Brian/Chengui's Haunted Legs roamin around Threadless - but now he want's to share it with the world in BOOK FORM! He's already 74% closer to his goal, so let's help him out! Every dollar counts!
HAIKUS BY JESS
The amazing and XCORE staff member, Jess puts her genius brain to use to create her personal reviews of television shows in HAIKU form. dayum.
WALKING DEAD

naked in moonlight.
shoulda killed that cray mayor.
stop wearing blouses.
"This is Hot Coffin. They are my homies from Milwaukee WI. They just released their first full length titled "LAW". For fans of rock n' roll. Turn it up!"
CHECK OUT HOT COFFIN'S BANDCAMP HERE!
MY FAV DESIGN OF THE WEEK
Here's where I post my favorite design in the running that I think everyone should love too.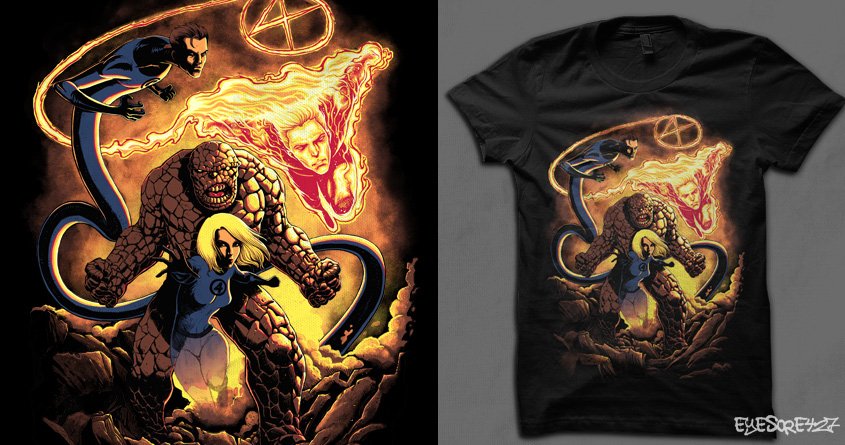 This amazing design by Eyesore427 makes my inner comic nerd geek out.. just a bit. It's just an amazing illustration that works perfectly on the tee. Definitely a contender for the Fantastic Four Loves.
A great thing about Threadless is that the staff always loves interacting with threadfans both on and off the site. One of the things I loved was Bob and Kristen's trivia games on Facebook or UStream. They would just ask Threadless Trivia and people could win rad prizes from shirts to parking stickers to wall decals! Was always an hour of fun every Thursday.