I made a font and used it on a tee
posted Mar 03, 2013 in General
48 Comments
I finally got around to finishing and subbing it.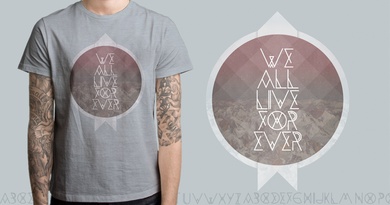 ---
So. that's done for now (and my eyes hurt!)
The general concept behind the design comes from physics, particularly Prof Brian Cox, who presents a show called The Wonders of... He's done The Wonders of The Solar System, The Wonders of The Universe and most recently The Wonders of Life.
He talks of how pretty much everything is made of the same basic elements. Hydrogen, oxygen, calcium, carbon, nitrogen etc. Many of these things come from space, like the sun burning up helium to create oxygen and carbon, a step on from this makes up iron. Basically it really hit home that we're all made from the same stuff, and when our lives end all the things we're made from "return to the universe to begin the cycle again". It kind of blows my tiny mind!
---
I've always wanted to make a font, but just don't have the opportunity in my day job.
I've made a few letters already and I'm going to make a commitment to seeing the job through by making a post about it. I'm seeing a lot of geometricy, pictogrammy fonts about at the moment and want to use it for a design I've done, that currently uses an off the shelf font.
Here's one of the sketches