We Heart Fat Presidents! Celebrate 3 holidays in one! / ROUND 3 winner announced!
This week, we're celebrating Fat Tuesday, Valentine's Day, and President's Day in one amazing holiday: We Heart Fat Presidents.
Not only have we got deals galore but we'll be playing games on each of the three holidays that you can participate in and win prizes!
On each of the holidays, we'll be pitting three Threadstaffers against each other in a game of trivia wits! In this blog, you'll cast your vote for who you think will win. On the day after the holiday, we'll post the results and if you guessed correctly, we'll put your name in a hat to win a $100 gift code!
Plus, since we're good sports, we'll also pull 2 wrong guessers to get a 20% off coupon!
---
ROUND THREE: Presidents Day / Winner: speedy joe
Monday, February 18

category: U.S.A. - all answers will start with either U, S or A

$100 gift code winner: benhamlin

20% off consolation prize winners: atone & bad_nobe
I'll be emailing you!

Speedy Joe: "I bleed red, white, and blue."

DJ Gary: "DJ Gary's gonna win because he sprinkles diamonds on everything he eats."

Kevin Casey: "Why I will win? I am offended by the question."
---
ROUND TWO: Valentine's Day / WINNER: DUSTIN M.!
Thursday, February 14

category: Heart Break Hotel (anatomy, celebrity break ups and geography)

$100 gift code winner: julietmarshmallow

20% off consolation prize winners: badkitty64 & theartistdude
I'll be emailing you!

Dustin M.: The only reading materials allowed in my apartment are In Touch Weekly and atlases. Celebrity breakups, check. Geography, check. Also I took an anatomy class in high school and I'm pretty sure I passed.

Angie:ANatomyGEographyceLebritybreAkups.

Marcella: Can't say much about my extensive knowledge of anatomy or geography, but I am hoping that celebrity breakups will bring me home the gold. I am an avid subscriber to People and Us Weekly. I typically know who is making up or breaking up in Hollywood.
---
ROUND ONE: Fat Tuesday / winner: Jen!

$100 gift code winner: halfgotten

20% off consolation prize winners: chafetco & etiennecent
I'll be emailing you!
Tuesday, February 12

category: yellow, purple & green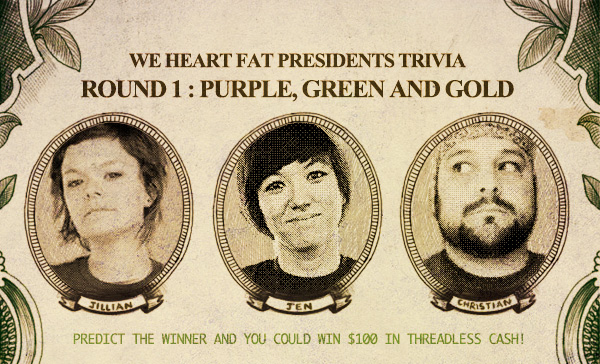 Jillian: "I was raised by wolves. They were all really good at trivia."

Jen Lemasters: "My favorite color is yellow and that makes me bright."

Christian: "I vogue first and ask questions later. Should you be unlucky enough to stand in my way to world domination, then I pity the fool."
---