THREADDIES (#7) - Your weekly dosage of Threadless: UNSCRIPTED.

~~~~~~~~~~~~~ CHECK OUT PAST ISSUES: [ #1 | #2 | #3 | #4 | #5 | #6 ] ~~~~~~~~~~~~~

HAVE YOU EVER WANTED TO GO TO A MEETUP BUT JUST COULDN'T SWING IT FINANCIALLY? WELL, NOW'S YOUR CHANCE TO!! WITH THE HELP OF JAKE, WE PUT TOGETHER A LITTLE CONTEST TO HELP GET THE ANNUAL BLOGGERRAISER STARTED!!
DESIGN THE 2013 BLOGGERRAISER TEE!
The Bloggerraiser is a community-driven fundraiser to raise money to send eager and active community members to the annual reunion in Chicago. In past years, we have been able to help send over a dozen people to experience a weekend of fun times with good company. We're determined to continue this tradition and this is your chance to be a part of it!
The Bloggerraiser is all about bringing the community together. Create a design that encapsulates the essence of the Bloggerraiser. Conceptualize what it means to you to bring together random people from random places with random tastes under the banner of Threadless. This challenge is your opportunity to make Threadhistory! Proceeds from the sale of this tee will go towards the Bloggerraiser.
If your design is printed, you'll get:
- $500 cash
- $250 Threadless gift code
- A seat on the 2013 Bloggerraiser Selection Committee
Keep in mind:
- The words "2013 Bloggerraiser" DO NOT have to be part of the design!
- DEADLINE: JANUARY 5th, 2O13!
WHAT ARE YOU WAITING FOR? GET SUBMITTIN!
CONCINNITY
(kuh?n-sin-i-tee)
(noun) A harmonious arrangement of various parts.
EXAMPLE:
There was a moment of inner peace in which belief and doubt merged into a strangely comforting concinnity when Jess started spinning on her head like a professional breakdancer.

LET'S DO DUMB STUFF TOGETHER! Threadless is tallying your activity on threadless - from scoring to commenting to submitting! This is your chance to be active with your fellow community members! If everyones totals hit 2,013,000 points, every single person who participates between 12/17-12/31 will get a coupon code for a free limited edition, exclusive tee with their next order!
Point Values:
submit a design: 5 points
score a design: 2 points
start a thread: 3 points
make a comment: 2 points
OH, and AN INDIVIDUAL LEADERBOARD WILL BE RELEASED TOMORROW!!! Who doesn't love a good competition! ;)
MARK YOUR CALENDARS!


Join two of Threadless' hotshots -- the man who put faces on food, Phil Tseng (pilihp) and the incredibly talented Karaoke star Jarrrrrrrred Stumpenhorst (jstumpenhorst) in a Threadless E-Chat thanks to kickass Ambassador Priscilla (valorandvellum)
December 19th at 7:30 pm CST
I have been to all of these e-chats and they are super fun, so mark your calendars! The link to the chat is posted ~15 minutes or so before it happens so click back to the blog and lookout for the link! :)
BLOG OF THE WEEK
Community member, Haragos started a "REAL THREADLESS" blog. What's that you ask? People take any ol' threadless design and recreate them using found images. Check out some of them and join in on the fun!!

Buzzin by craquehaus

Animals Wearing Eyepatches, by Chengui

Police Brutality by nyenyerejunior
CHECK OUT THE BLOG TO SEE MORE AMAZINGNESS!
Ever vote on a design and thought, "WOW, I wish I could redo this design with my own style and twist.." Well, now's your chance (as long as you get permission from the previous artist). New alumni member, Nickv47 is leading the 5th REMAKE! challenge. Go on and sign up already!!!
HAIKUS BY JESS
The amazing and XCORE staff member, Jess puts her genius brain to use to create her personal reviews of television shows in HAIKU form. dayum.
PARENTHOOD

Parenthood. Wine. Tears.
Tuesday? Time for ugly cry.
Curled up in fetal
MY FAV DESIGN OF THE WEEK
Here's where I post my favorite design in the running that I think everyone should love too.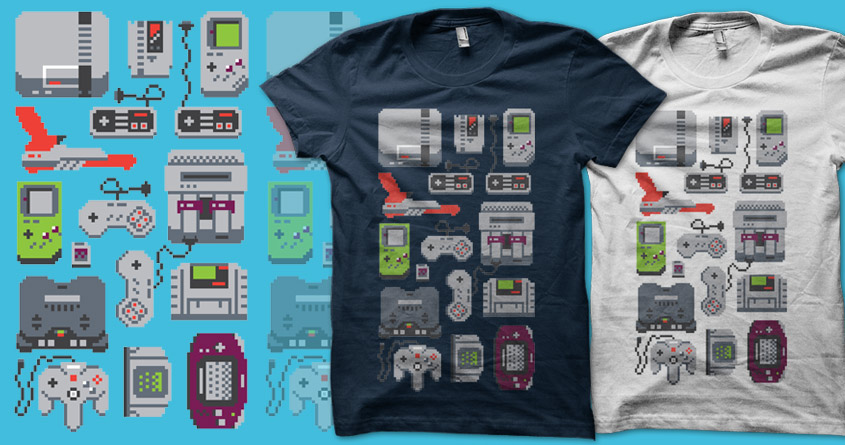 This amazing design by Melee_ninja does exactly what it's titled. Brings back nostalgia. Not only is it well executed, its just so much goodness on one tee that a lot of us can relate to.