BUMP!!! BUY IT!!! Bloggerraiser: Help us help you come to Chicago for the Meetup this year!
BUMP! WINNER WINNER!
Buy it now and support the Bloggerraiser!
---
GAH! We have a winner!
Morkki's A world united in CHEESE! Because pizza.
AVAILABLE SOON!!!
---
It may be 9 months away, but better to start now than too late! This year we're going to print a special tee with all the net proceeds going towards the Bloggerraiser! We're hosting the challenge the old-fashioned way, in this very thread of this very forum! So read below, put together your design, and just post it up in the comments. We'll decide which design is printed based on everyone's comments.
Becca and Jeff put this wonderful description together:
---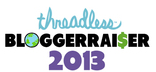 Design the 2013 Bloggerraiser Tee!
The Bloggerraiser is a community-driven fundraiser to raise money to send eager and active community members to the annual reunion in Chicago. In past years, we have been able to help send over a dozen people to experience a weekend of fun times with good company. We're determined to continue this tradition and this is your chance to be a part of it!
The Bloggerraiser is all about bringing the community together. Create a design that encapsulates the essence of the Bloggerraiser. Conceptualize what it means to you to bring together random people from random places with random tastes under the banner of Threadless. This challenge is your opportunity to make Threadhistory! Proceeds from the sale of this tee will go towards the Bloggerraiser.
Submissions close January 5th!
If your design is printed, you'll get:
- $500 cash
- $250 Threadless gift code
- A seat on the 2013 Bloggerraiser Selection Committee
Keep in mind:
- The words "2013 Bloggerraiser" DO NOT have to be part of the design!