My Summer Sequel (GoT parody) - All done thanks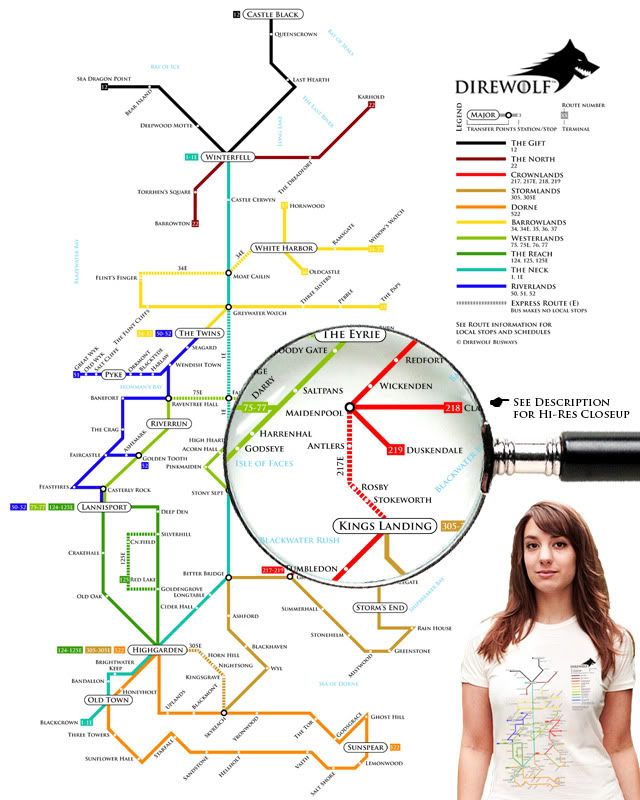 Well after some hassling from my work colleagues and stumbling across QBF's SS5 blog, I somehow managed to get off my butt and made this sequel happen as after the original LOTR Subway print, I didn't think I'd ever touch another again due to the sheer volume of research and work involved to make it function as though it existed in reality.
In some ways, this GoT parody was much tougher as I wanted to challenge myself by steering away from railways, hence I've opted to work on this design using a bus network. From concept to completion, it took a good 50 or so hours with at least 10 of that user testing to ensure the locations are accurate and proportional to the real Westeros map, and that it actually works for the most part.
What made this one extra challenging was the fact that the locations are much more spread out compared to Middle Earth which translated to me having to scale down several location distances as otherwise it would be way too large for practicality.
All said and done post headaches and hair pulling, I'm real glad I took this step and returned to my roots of designing via a medium I enjoy which is creating a Visual Communication piece that is fun and usable.
Cheers
reags
Please click HERE for a hi-res and close-up preview download. Remember you need to actually download the file in order to view it in hi-res/close up, otherwise it's just a preview on the page.