So I did an experiment.... (may be of interest to the artisty types)
I have been playing around with printmaking, trying to come up with new things.
Had my house rewired and had this box of stuff.....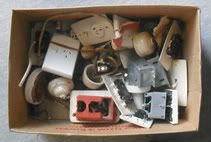 and started playing with it....

I wanted to figure out a way of using print and creating a transparent ground so I can hook up the switches and use lighting and viewer interaction.
After a bit of cogitating I wondered if epoxy resin poured over an inked drypoint plate would pick up the image when it hardened....... so I tried it out....
I did a quick sketch of a dead cat (the why of that is still unknown), inked and wiped the mylar, placed one of the electric box thingys over it and sealed the edges with plasticine. Then poured 50ml of the resin mix in and left overnight to cure....

and dadgum it, it worked!!!!!
The mylar pinged right off the resin and the print was left in the resin.
The nice thing is the etching has become a relief in the resin so you can feel the image when you run your fingers over it.
the window effect has left room to add more layers, or even a diarama in behind the resin! I will be having fun playing with this new technique!!!!
Plan on trying large images too.....maybe to use in window panes for an installation I'm thinking of doing combining print, projection and of course.... viewer participation!
ART IS SO MUCH FUN!!!