Threadless Guide (1)
Unofficial Threadless Guide
Welcome to the unofficial Threadless guide! This is a four-part introduction to this place that I hope might answer any questions you have about Threadless. And, who knows, maybe it will answer questions you didn't even know you had about Threadless. Here's a brief outline of what each chapter tries to cover:
Chapter 1: An introduction to Threadless. It tries to describe the sorts of designs that tend to do well here, and touches on the basics of digital imagery
Chapter 2: Follow yours truly as I make a design from start to finish, step-by-step
Chapter 3: Tips on preparing completed designs for entry into the competition
Chapter 4: What happens after scoring & fun Threadless statistics
Let's jump in!
Chapter 1
This first chapter will be for the newest members of Threadless. It introduces you to Threadless itself and some of the basics of graphic design. It may be worth a read even if you know a bit about these things already – you might just learn something new.
Threadless
Threadless was started in the year 2000 by this cool cat (& some other guy who left the company, according to Wikipedia). What I'm trying to say is if you're going to insult anyone around these parts, make sure it isn't him.
Just kidding, just kidding. You shouldn't insult anyone. That's mean.
Anyway, since then they've grown to become a rather successful & famous company.
Some new users worry about whether Threadless is reliable. Yeah, don't worry – they are. Many designers (myself included) can tell you that really do pay you all that money if they select your design (I mean, c'mon, they have their own Wikipedia. They've gotta be legit. The company I work for doesn't even have a Wikipedia).
The Community
As you'll quickly learn, Threadless isn't really about you making stuff by your lonesome. There's an active community of people here on the forums who are always around to help you, and, you know, be your friend or something. Some of them are designers, while others just like to hang out and be awesome. So even if you're not planning on submitting anything – which you should, 'cause you never know! – you'll fit right in.
If you do decide to design for Threadless then I suggest you spend some time here on the forums. People here are great, and you might just meet some new friends. I mean, if you didn't hang out on the forums at all you never would have found this thread. And then where would you be?
Before you start posting up and down, it might be worth your time to check out the exceptionally informative Unofficial Guide to the Threadless Forums by kuro_te. You'll learn about forum etiquette and maybe stop yourself from making some of the common slip ups that new folk sometimes make.
But really, Threadless is all about the community. In fact, every year there's an annual meetup in Chicago – the location of the Threadless HQ – that only the coolest Threadless users are invited to. (Actually, anyone can go. You just need to get yourself there)
The community, like Threadless itself, is trustworthy. You don't need to worry about people stealing your ideas or art. That sort of thing is pretty much unheard of here. Instead, you should feel safe using the community to help you out with your designs: post your works in progress (WIPs), send people your design files if they offer to help you with something, or collaborate...all of that good stuff. They'll help you out!
What Threadless Prints
So you might be wanting me to quiet up about people right now and get to the design parts of this guide. I hear ya! Before you start designing, though, I want to share with you some thoughts on the type of designs that Threadless prints. This might help guide you through the brainstorming process of coming up with a shirt.
You see, Threadless prints art on tees, but they don't print every style of art. I mean, I love Giorgio de Chirico's Nostalgia of the Infinite as much as anyone else, but it just would never get printed here. It'd look downright horrible on a shirt, am I right? It'd just be a square on a shirt!
So back to the point of this section. You see, I have a thought that there might be a useful way to distinguish between the sorts of things that do get printed here and things like de Chirico's Nostalgia of the Infinite. Let's explore this idea a bit more.
At the basic level, it comes down to the community favoring particular styles over others. This sounds trivial, I know, but it's always good to start off on a solid foundation we can be certain of. My thought from here (and this is where conjecture begins) is that there are two attributes that the community cares about in designs: concept and aesthetics.
The concept of a design is the specific story, joke, or message of the design. Now, it's probably the case that all designs invoke some thought within the viewer, but some do it more explicitly than others. Here's an example of one, Have You Seen Him? by Phil Jones:
Haha, good, right? This design should make sense to everyone who looks at it (as long as they know what a ninja is). And that joke is this design's concept, and it's a really strong one.
Sometimes, strong concepts can push a design to get printed, even if the illustration isn't as strong. Take an early design of the exceptional artist rodrigobhz, for instance: I Told You Not to Play With Matches.:
This isn't an ugly design, by any means. But it's doesn't compare to the works that rodrigo has submitted since.
This brings us to the other property of well-scoring designs: aesthetics. The aesthetic value of a design is just how nice it is to look at. The community here, as you might expect, scores designs well when they are a treat to look at. Sometimes, designs don't even have a specific message, and instead appeal almost entirely to your visual tastes (and imagination). Take, for instance, Niel Quisaba's design, Cosmic Dreams.
Niel isn't sharing with us any particular story. Rather, he's created a beautiful work of fantasy that hints at a story while keeping the details a pleasant mystery.
Now, I don't mean to say that designs or one or the other here. All designs have a bit of both. But it is typically the case that high scoring and printed designs are really strong in at least one of these areas. Most of the highest scoring designs are really strong in both categories.
So what should you take from this? Well, if your designs aren't doing well, it might be worthwhile to focus on improving them with these two attributes in mind. What's the story? Is there one? If not, is it really, really nice to look at? And does it look great on a shirt? These are good questions to ask while you're designing.
Hardware
The majority of designs here are made with computer assistance. Many artists use more than just a mouse and keyboard, though. What we use is called a graphics tablet, or tablet for short.
Tablets let you draw right into Photoshop. Other than just giving you the feeling of drawing with a pen, there are a surprising number of features in a tablet pen: pressure sensitivity, angular sensitivity, and an eraser.
Technically, you don't need a tablet to create a design for Threadless, but I imagine drawing with a mouse would be much more frustrating.
Though there are numerous tablet companies, the one I trust most is Wacom.
Unfortunately, one of their tablets can be a steep investment. Currently, their cheapest option is $79. The one I have, the Intuos Pro Medium, runs for $350.
If you plan on seriously investing time in digital illustration, then I think it's worth it to buy a tablet. As you already know, there is a substantial reward for being selected for print here. Getting printed just once would allow you to buy a dozen Wacom tablets (I do not know why you would do such a thing, but you could!).
For me, my tablet is one of my favorite possessions. Does that make me materialistic? So it goes...
Software (Raster vs. Vector)
Now that we've got the hardware figured out, we need to know more about programs. There are probably two things to consider when finding the right software for you: the type of digital image you'll be making, and the amount of money you've got to spend.
So what exactly do I mean when I say 'the type of digital image you'll be making'? Well, there are two types of digital images: raster and vector.
Raster images are the more familiar of the two types. They're made up of pixels. When zoomed far enough away you see a nice lovely image. But when you get too close you can see the pixels:
.
Vector images are quite different. With vector art, a mathematical algorithm defines the width and angle of the curves. A consequence of this is that vector images look smooth and clean no matter how far zoomed in you are. Look at this comparison of raster and vector images: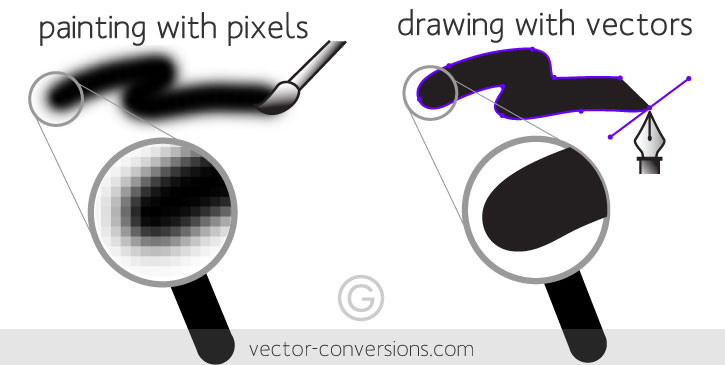 In addition, raster and vector art tend to look quite different when you're done with your design. It's easy to add lots of details and texture to raster art, allowing you to give the appearance of traditional media like paint or marker. In contrast, vector images look much more smooth and crisp than raster images.
Here's an example of a vector design:
And here's a raster design:
Of course, the end result of raster and vector designs don't always look like this. If you're new to this idea, it might be a rewarding exercise to browse the Threadless catalogue and see if you can pick out which you think might be vector or raster. Do that for a few designs, and you'll quickly be a pro at distinguishing between the two, I'm sure.
So, to continue, this difference in image type is reflected in the software available to you. Some software has powerful raster capabilities. Other software is geared toward vector illustration. If you're new to designing, you should think about which type of image you might be interested in working with, and maybe even give both a try.
For me, I tried vector design, but it wasn't my thing. Consequently I stick almost exclusively to raster imaging and Adobe programs. This is probably the most common choice among designers, but that doesn't mean it's right for everyone. Here's a brief rundown of the most popular software choices:
Adobe Photoshop: Raster imaging program. Costly (in the range of several hundred dollars).
Adobe Illustrator: Vector software, costly like Photoshop.
The Gimp: Raster, and free!
Inkscape: Vector, and free!
*If you think you may want to design in Photoshop, I highly suggest you consider signing up for the Creative Cloud. You're almost guaranteed to save money if you go this route.
Again, I only work with Adobe Programs, and specifically, raster images. Consequently, the content of this blog will at times refer specifically to the process of designing within Photoshop. For Gimp users, there are probably many of the similar options available in that program. For vector artists, the general process of designing will be the same, but there will be larger differences when we get down to the particulars.
Once you've thought about what program might be best for you, or even acquired one, you're ready to move onto the next section of this guide. In the next chapter, we'll walk through the entire process of making a design for Threadless. Woo! Let's go!