The Path challenge winner is here!
219 designs /
1

printed

design

/ 83,572 votes placed
The challenge was
Design digital stickers to share with your friends.
When you're hanging IRL with your besties, a roll of your eyes or a crooked smirk can say what words never could. But how do you fit those big emotions into your tiny smartphone? Enter Path, an intimate social network that lets you digitally interact with your BFFs as if they were sitting right next to you.
Your challenge is to create a pack of six virtual stickers that Path members can share with their friends to show when they're feeling happy, gloomy, angry, hungover, or any of life's other highs and lows.
Your stickers can be based on an original character or follow a theme. The focus should be expression; how would you tell your girlfriend or your childhood pal that you just got awesome news without using any words?
To enter this challenge, you should design six (6) original stickers. The winner of this challenge will then work with Path to turn their six stickers into a complete collection of 24 unique designs.
Keep in Mind:
The image area should be either square (1:1) or horizontally rectangular (2:1).
Avoid fine lines and overly detailed designs.
Fill the image area as much as possible (avoid art that is extremely narrow or extremely short).
No violent or sexual content is allowed.
For inspiration, check these out.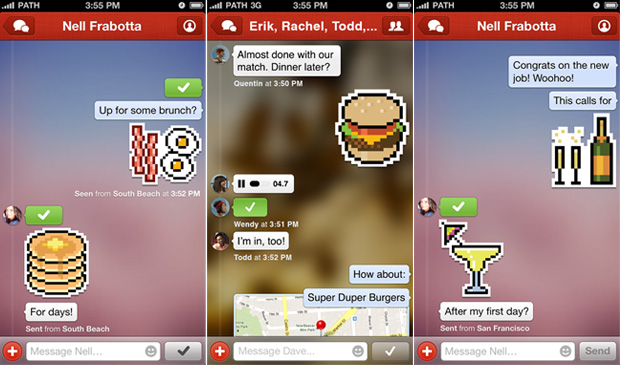 Check out an example submission in step one below.
The winner received
$3500 cash for finished pack of 24 stickers

$500 Threadless gift certificate

Other designs from this challenge may be chosen by Path. Artists will receive $2000 for a completed pack of 24 stickers.
Designs from this challenge
Path
Path is the personal social network for your 150 closest friends and family. Send private messages and share moments like photos, music, and places with the people who matter most to you. Path has over 10 million users, is available in 19 languages, and is free to download on your iPhone, iPad, and Android phone.


Stickers are part of messaging on Path. They are expressive and fun, and they communicate what words can't. These works of art are by amazing artists like Hugh MacLeod, Susan Kare, and soon maybe you!
path.com