The Kidrobot challenge winner is here!
286 designs /
1

printed

design

/ 82,132 votes placed
The challenge was
Design a t-shirt inspired by Kidrobot's 'Bot.
Kidrobot turns playing with your toys into an artistic endeavor, cranking out vinyl figurines with cutting-edge flair and undecorated creatures waiting for your unique stamp to make them pop. And overseeing every sinister hop of a Dunny or bare glare of a Munny is their shape-shifting mascot, The 'Bot.
With his bristly Mohawk and defiant sneer, The 'Bot is at home on the fringes of any scene—high fashion, punk, skate, hip-hop, graffiti, you name it. And with your help, he's ready to infiltrate the Threadless community!
Your challenge is to bring Kidrobot's 'Bot to an original t-shirt design. Take cues from the cheeky, fresh, hard-living, and artist-inspired style of The 'Bot to create your own 'Bot infused work of wearable art that will proudly hang in any scene.

Keep in Mind:

You can use The 'Bot head alone or with his body, but the artwork must contain at least The 'Bot head framework.
No outside characters are allowed in your design.
Get creative with your 'Bot design, but remember, the final artwork must still be recognizable as the Kidrobot mascot.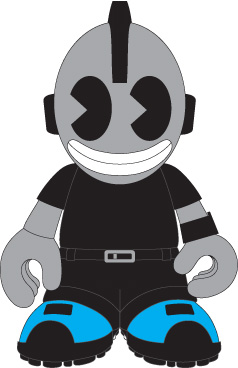 The winner received
$2500 cash

$250 Threadless gift certificate

$250 Kidrobot gift certificate

Other designs chosen for print from this challenge will receive compensation based on the product printed on & the quantity printed.
Designs from this challenge
Kidrobot
Founded in 2002, Kidrobot is acknowledged worldwide as the premier creator and dealer of limited edition art toys, signature apparel, and lifestyle accessories. An innovative cross between sculpture and conceptual art, Kidrobot offers not only a powerful medium for today's international fashion designers, illustrators, and graffiti artists, but also the creative canvas for emerging street trends and pop art. Kidrobot showcases and sells its unique take on contemporary culture at specialty stores in New York, San Francisco, Los Angeles, Miami Beach, Boulder, and Las Vegas. Kidrobot can also be found at numerous retailers around the world and online at kidrobot.com.
www.kidrobot.com