Let's celebrate ten buck tees by going on a Threadventure! All week long we'll be virtually biking to different Threadlessy destinations to play games and hang out.
---
Threadventure day 5: The Story Arc
5 days, 2 wheels and 10 dollar tees: It's the last day of our #Threadventure! Welcome to Story Arc, a man-made structure of our own imagination! Today, we'll work together to create a story arc of our own.
Today's challenge: Add one line to our progressive story. We'll start with the first line of the story, then with each comment, each of you add the next line of the story.
Write your story line in bold and leave any comments or questions in regular type.
5 participants will win a $25 Threadless gift code.
The story starts here: After a long sunny ride, Jeff got off his bike, locked it to a stop sign and walked into his hula hoop dance class.
Thanks to everyone who came along with us on this adventure! We had a great time. Don't forget to pick up those ten dollar tees before 5 pm CT!
And, if you're taking an adventure to Chicago this weekend for the Threadless Family Reunion, we'll leave the lights on for ya!
---
Threadventure day 4: Selfie Summit
congrats to @kylegboynton for winning this challenge with this awesome selfie:
Even after days of riding on this Threadventure, man do you look good. And that's perfect, because we've just reached Selfie Summit, where everyone looks good, in every photo. Hope you're wearing your Threadless tee!
Today's challenge: Post a picture of yourself to Twitter or Instagram wearing or holding anything Threadless and tag it #threadpics and #threadventure. Our favorite photo will get $100 Threadcash.
Post your photo by 9am CT August 16. Pick yourself up a $10 tee, pump your tires and get ready to ride down this big ol' hill to our last stop!
---
Threadventure day 3: Voter's Volcano
Congrats to 14sway, timetopre10d, Underdawg, efralick, and sasvari.peti! You've each won a $100 Threadless gift code
It's day three of this Threadventure and our legs are feeling the burn. It's either from all this pedaling or maybe it's that giant, angry volcano over there! Offer your sacrifice to the Lava gods by scoring tons of designs!
Today's challenge: Score 150 designs today and you'll be entered in a random drawing to win one of 5 $100 Threadless gift codes.
Score by 9 AM CT August 15 (tomorrow). Score designs, pick up a 10 buck tee, and we'll see ya tomorrow.
NOTE: We're keeping the Photoshop challenge from Day 2 open for 24 more hours since there are only 2 submissions right now! So today, you have 2 ways to play!
---
Threadventure Day 2: World's Largest Adobe Hut! / winner announced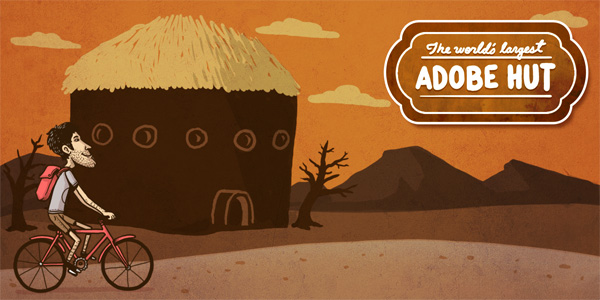 Congrats P0ckets! You won this challenge with your Jurrassic Park submission. We'll be contacting you soon!
It's day 2 of the ten buck tee Threadventure! Stretch your calves and hydrate! We've reached destination two of our Threadventure! Welcome to the World's Largest Adobe Hut.
Today's challenge: Using the powers of Adobe, Photoshop the biggest, baddest, most awesome earthly destination for our bike Threadventure.
Will there be snow? Slides? Smurfs? It's up to you. Just make sure to include yourself and a bike in your image.
Our favorite image will win a $50 Threadless gift code and a Threadless backpack prize pack for a Threadventure of your very own.
Submit by 9 AM CT August 14 (tomorrow). Get pedalin'! We'll see ya at the next stop.
---
Threadventure day 1: The social ocean / winners announced
Congrats grand prize winner: KNELarson
5 other winners: Dreamer528491, oceanic abandon, RDFXcycling, 14sway & Random Findings In Wonderland!
We'll be contacting you soon.
Check out the view from The Social Ocean! It's big, blue and vast! Spread the news of ten buck tees from this coast to the next.
Today's challenge: Post a message about $10 Threadless tees with the hashtag #threadventure to Instagram, Twitter, Tumblr or Vine by 10 AM CT August 12. (tomorrow)
Our favorite post will win a $50 Threadless gift code! 5 other random posters will win a $25 Threadless gift code.
Winners will be announced tomorrow morning when we reach our next destination!