Threadless Ambassador JeffreyG interviews artist Anna-Maria Jung, who has been a member of Threadless for 4 years, has been printed 13 times and now has a MADE Shop!
Visit her MADE shop and share it for the chance to win the whole collection.
Anna-Maria – you are slowly taking over the t-shirt world! How about giving us a little introduction?
Hello there! I am a very nerdy girl born in Austria. My greatest influences during my childhood and teenage years were the Simpsons, Cartoon Network shows, US-comics featuring antiheroes (Garth Ennis, Warren Ellis, and Grant Morrison wrote my favorite stuff), French comics, and TV-shows with a fantastic fiction focus. My brother also got me hooked on computer games (Half Life being my first love). In Austria, I studied Multi Media Art for four years with focus on traditional animation. After an internship with animator Bill Plympton, I fell in love with New York City. I decided I needed to go back to this wonderful city and managed to get into the MA Illustration program at FIT with a Fulbright Scholarship. NYC is very expensive, so I decided to try my luck with shirt designs. After trying for a year, it finally started working. My persistence and stubbornness paid off! Now I'm back in Graz, Austria, and working as a freelance illustrator.
You received a Fulbright Scholarship to do your Masters in the greatest city in the world – what are some highlights from that?
New York is definitely a challenging city. In the first months living there, I was always a bit tense and stressed out riding the subway and being around so many people all the time. But just like any New Yorker, I learned to shut down my senses and become partly numb towards outer stimuli. What I appreciated so much about NYC was the sheer number of amazing things one could do there - the museums, the exhibitions, restaurants, festivals and all those wonderful artists I met there. No matter how good you are in what you are doing, there is always somebody who is better, which I found as inspiration to work harder.
I saw that you published your first graphic novel, Urbanity, at the age of eighteen! That's crazy – what was that like?
That was unbelievable and amazing. I still remember the day I presented it to family and friends – my diary only had one big sentence written all over the page that day: This is the best day in my life. The publisher, Jörg Vogeltanz, is still a good friend of mine, and I still think him publishing me kick started me into the comic world. Also, I really told the story I wanted to tell: The crazy adventure of a young, drunk guy who gets speed mixed into his drink and is forced to participate in a scheme involving insane, violent clowns, drug dealers and Nazis who want to resurrect Hitler. Doesn't that sound fun?
Has art always been your passion? Could you see yourself doing anything else?
Being an artist wasn't always my first choice. When I was very little, I wanted to become a grave digger because I was curious how a real skeleton looks like. Nobody ever told me that I could just go into a museum or a church's ossuary to see those. Then I wanted to become a baker, with a focus on creating replicas of my dad's car in real size and cake form. After that, I followed the obligatory girl's dream of becoming an actress, which was superseded by the wish of becoming a mad scientist (I read an article about M.I.T. in a science magazine). Realizing my total lack of talent for math, physics, and chemistry, I decided to the second best thing: become a cartoonist and create crazy robots and insane, fantastic technology in comic stories. I love being a cartoonist/illustrator. There is only one thing I would love to do more: hunt monsters and evil-doers with Nikola Tesla and HP Lovecraft (like on that awesome Threadless shirt). But since that's not possible, I'll stick to drawing.
Do you have any hidden talents you want to tell us about?
I have the secret talents of lucid dreaming, snapping my fingers in a weird way, and making my voice sound like a drowning baby duck.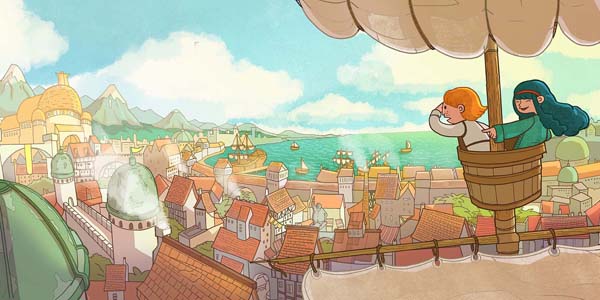 If you could collaborate with any artist (dead or alive) right now, who would it be?
Dead: Gustav Doré, Hieronymus Bosch and Pieter Brueghel the Elder. Alive: I can always collaborate with Rebekie B., as we complement each other's style perfectly.
Do you have a favorite medium to work with?
Yes, I mostly work digitally, but outside of the virtual world I prefer blue colored pencil, multiliners and grey TOMBO artist pens in Moleskine sketchbook. I scan sketches I consider worthy into the computer and work on top of them in Photoshop. My latest purchase was a Cintiq, which I use to create the finished version of the art.
How does the art scene in Austria compare to the ones you experienced in the states?
To be frank, I am a bit pessimistic about the art scene in Austria - or let me put it this way, the specific "nerdy" kind of illustration/cartoon style I love so much doesn't have much representation here. Art is far less pop culture inspired here compared to the states, which is why I prefer the massive amount of geeky art coming from the States and from artists inspired by those themes. However, there are a few artists in Austria who invest time and passion into advancing the Austrian comic scene, which needs to be appreciated.
You have such a distinct comic style aesthetic to your works that is adored by many – are there any comic books or comic book artists that you found inspiration from?
There is no doubt that I have been influenced a lot by a number of great artists. The list is long, but the most influential are probably Matt Groening (especially with his "Life in Hell" series). In terms of storytelling, I need to name a few authors who have inspired me a great deal with their writing for comics: Grath Ennis (Preacher), Warren Ellis (Transmetropolitan) and Grant Morrision (The Invisibles). As a European, I got in touch with a lot of French comics. One of my strongest influences was the works of Lewis Trondheim, especially his series "Dungeon" and Moebius' "The Incal."
What are some things you've learned as an artist on Threadless that you can pass on to some of the newbies just starting out?
Keep on trying and trying and trying! I submitted almost 30 designs before my first one was printed. Persistency and the will to learn and accept critique by others is vital. Open your mind for new concepts, but don't leave your own style and love for certain topics – don't bend to the Star Wars theme just because it might sell well. Study other people's art. Read articles. Deal with the industry. Be an artist AND a businessman/woman. And sometimes, it's ok to sell yourself out a little. Just don't do it too often ;-)
As 2013 rolls in, you seem to have your hands full including a graphic novel your working on with your friends – The Pepper Chronicles – could you tell us a little more about that?
The Pepper Chronicles is a graphic novel collaboration between my great artist pal Rebekie Bennington, my writer friend Daniel Scribner, and me. It's a horror-comedy-crime drama set in a fantasy world called Oestrich. It's planned to be around 200 pages long and will focus on the adventure of city watch member Mara Payne, who is far too eager to do her job and is sent to a fantastical, oriental city called Acco where she is confronted with a series of murders of mages. We have a website and a Facebook page. It will take us awhile to finish this because we all have real jobs :-) but we're trying our best.
What else can we look forward to seeing in 2013 from you?
More shirts, more comics, more crazy wizards running around with no pants - so the usual.
Any last words or shoutouts?
My hovercraft is full of eels. Oh, and visit my website: www.annamariajung.com !