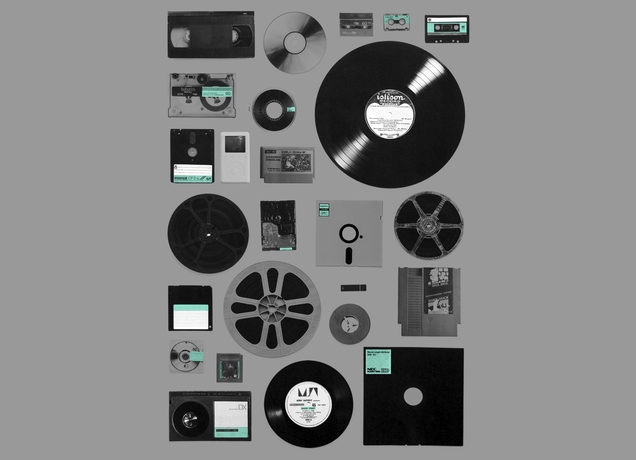 Congratulations to Florent Bodart aka speakerine on his Mixed Media design challenge win! Since it was Mixed Media, Kyle and I took a non-traditional route and wrote the questions in.... condiments! This included, soy sauce (who writes in soy sauce?), mustard, strawberry jam, ketchup, and honey! We hope you guys enjoy our tasty interview!
Hi! I'm a half French half Dutch graphic electro carpenter designer. I love beautiful things (and cats).
I was with my girlfriend when I learned of the win . We did a dance of joy ! I couldn't believe it. I still can't believe any time I receive a "You won!" mail, I have to read it twice.
The hardest part about doing my Mixed Media design was choosing elements that fit together. Arranging the tapes and records was hard too, I think I must have restarted 10 or 15 times before I was satisfied with the composition.
I began by selecting objects that went with the idea of "data" at home (old tapes, records, floppy disks...) and took photos of them. I collected pictures of data storages and browsed commons medias websites to add in my collection. I retouched them in Photoshop (and faked the trademarks), printed them in half size of their real scale.
I cut each piece separately, arranged them on a A2 white sheet (see picture attached) . When I was happy with the composition, I glued them, and then took a photo. I took the picture into Photoshop to erase the borders of the paper cuts and correct last details. Then I added this weird blue on small places. That was really fun to do !
Long live data storage and Threadless!
---
Thanks Florent! You can pick up Data, as well as other new swag in this week's catalog!