Gettin' pixely with SKNNY - Winner of the 8-Bit Challenge!
Meet Edzel Rubite, designer of the winning 8-bit design, Mini Pixels. Now on sale today!

Hi Edzel! Tell us about yourself!
Hi I'm Edzel Rubite aka Sknny I'm from the beautiful island of Cebu, Philippines and I've been a graphic designer for almost 7 years.
Congratulations on your 8-bit challenge win! What was it like to receive the news?
Thank you Threadless! It was a big surprise - I'm shocked. I still cant believe it. It was the best and biggest prize I've ever won - what a great start of the year for me! I was running around the house because of the happiness and excitement. Mini Pixels was actually a personal project, so when I heard that there was an 8-bit challenge, I sent it right away.
Do you have any process pictures you can share with us?

For me, it's not really a process, because everyone can create characters out of those square boxes through the grids in Illustrator and let it snap. But, you have to follow the details or create your version of such character very minimally.
Your design, Mini Pixels, showcases an incredible amount of characters - do you have a favorite?
The Avengers - it was the 1st set I did after watching The Avengers Movie. I was having fun doing them, and so I started doing more sets after that.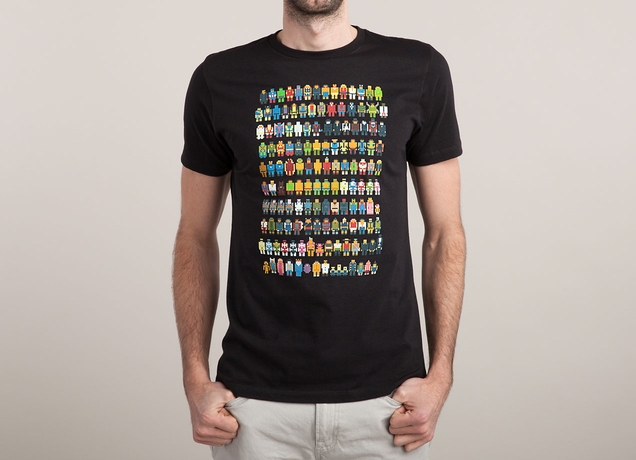 Is working in 8-bit something you do often?
Nope! It only depends on what's what idea design I have in mind, and Mini Pixels was just a personal project for me.
How would you describe the level of difficulty working in 8bit in preserving character likenesses?
Doing 8-bit art is not easy work especially if you really put some extra details. Mini Pixels are much simpler but still recognizable, that's the hard part. At first, when doing the kids or shorter characters, I tried to make them the same size with the adults/taller characters for consistency, but it was a bit weird to look at. I ended up sizing them to their character instead (an example is the Despicable Me characters.)
Have you ever drawn an 8bit version of yourself?
Yup.

Are you working on anything cool at the moment?
Right now, I have a new project called "Album Covers Pixelized".

Any last words or shoutouts?
To all the people who voted, shared, liked my design, to all the Threadless Staff, and all the people who supported me, a big THANK YOU to all of you. Cheers! Much Love!