The Day the Cookies Crumbled SCORING NOW. Nikoby's Sesame Street Process Blog
Up for voting now! Click here to vote!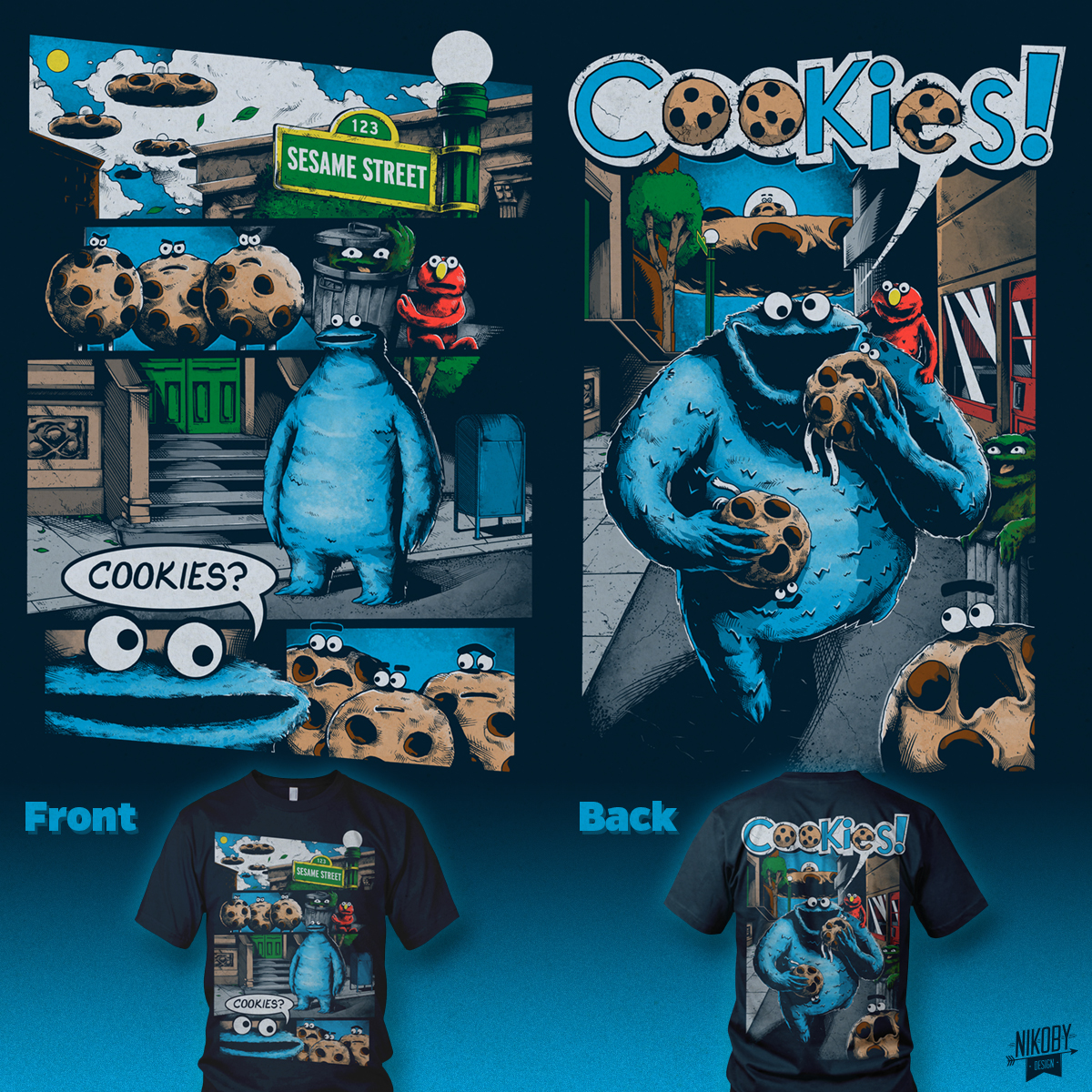 Process
-


Working on a comic book style design for the sesame street contest. UFO Cookies invading the street. That is all for now.


cookie aliens! :O


next cookie monster enters the scene. This one is before the inking so you can see what I work from. I use x's to indicate what should be black.


now inked. Now two more small panels on this side and then a new page with one splash page for the back of the shirt. Hope I get this done in time...


Got the first page finished and scanned in! I scan the drawing in at a high resolution in grayscale (1600 DPI) and then bring it into photoshop to mess around with the levels. I make adjustments until the drawing is almost entirely black and white pixels (I try to remove as many grayscale pixels as possible). Then I make it a bitmap (threshold 50%) to know for sure there will be no gray pixels in the design. Then I resize the drawing to what I want (300dpi is usually good) and then convert back to grayscale and then RGB.
Made some adjustments to make it more cohesive (for example, I moved up the third vertical panel to cookie monster's head would overlay the previous panel above it. I thought it might add to the flow of the drawing). If anyone is interested, I could show some of the tools I was using to make this.


Pencils for the back, on to the inking!


Finished inking, scanning, and touch ups for the back side of the shirt design. ON TO COLORING!


Updated the text Finished the coloring for the front, still working on the back. And here it is mocked up:


What do you all think? Does it need something else, is something not working?


Finished the back, any thoughts? And here it is on the back:

Any final changes I should make before I sub this bad boy?