Raise a glass to Ross Bruggink's ABSOLUT CHICAGO bottle design!
by KyleGeib
posted Oct 03, 2013
11 Comments
Ross Bruggink is on a roll. Last week, we released Ross' cryptozoology-inspired "Sweet Betty's Sparkling Yetis" tee, which was the winning design from our challenge with our pals at dribbble. Yesterday, we launched Ross' spectacular new MADE collection, complete with a charming video of Ross in his natural habitat (Minneapolis, Minnesota). Today, we're ecstatic to announce that Ross' ABSOLUT CHICAGO bottle design, "The Cityscape," has finally hit the shelves! Check out the bottle in all of its glory: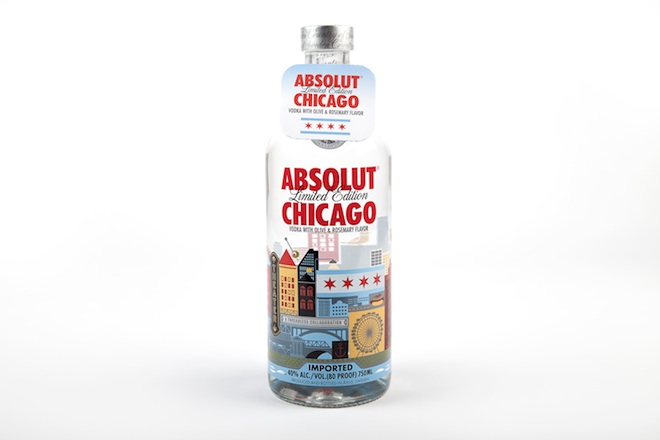 "I wanted to represent iconic elements of Chicago (hot dog, ferris wheel, pigeon, theatre sign, etc.) while presenting the iconic nature of the architecture itself." says Ross in his artist statement, "The result is a stylized cityscape incorporating architectural and iconic elements of Chicago."
See what we mean? Ross is on FIRE! Ross' beautiful Chicago-themed bottle houses one of ABSOLUT's newest flavors, an interestingly delightful, aromatic rosemary and olive vodka.
Thinking about vodka drinks now? Check out this edition of Mo Knows for a few innovative new cocktail drinks to test out at your next soiree. That girl knows her mixology!
Congratulations to Ross on all of his recent achievements, and we hope to see more of his incredible work in the future!