Threadless Teetorials: Halftone Texture in Illustrator
by KyleGeib
posted Oct 01, 2013
10 Comments
Teetorials are tips and tricks for adding those special touches to your designs. They're brought to you by our very own Threadless staff designers, Alex, Jillian, Speedy Joe, & designers from the Threadless community. This Teetorial comes courtesy of our pal and fellow graphic designer Phil Tseng.
Before you start, find a good grunge/distress texture image big enough to cover your design. Once you have your image, convert it into black & white in Photoshop or Photoshop-like program. You will also want to adjust the Brightness/Contrast of the image--you don't want too much gray in your image or else it'll end up being a big halftone mess in the end. I like to turn the contrast up to 100 and the brightness between 20-40, depending on how much of the texture details I want to show.

Once you have your texture image ready, switch over to Illustrator and create a new layer above all the other layers.

Paste your texture image into this new layer.

To convert the image into halftones... with the image selected go to Effect > Pixelate > Color Halftone...

In the Color Halftone dialogue box, set all the channels to 45 degrees. For the Max. Radius I usually stay between 8-16 pixels, depending on how big I want the halftones to be. Play around with the numbers till you're happy with the results.

Once you're happy with how the halftones look, you're going to rasterize the layer: Object > Rasterize...

In the Rasterize dialogue box, check High for the resolution and click OK.

After the layer is rasterized, you're going to Live Trace the image to extract the halftones: Object > Live Trace > Make. This might take more than a few seconds--depending on the complexity of the halftones.

Once it's done tracing, set the Min. Area to 4 pixels and press Expand. This should take a few seconds.

After it's done expanding, you'll end up with a messy looking thing full of dots. Now we're going to delete the white part so we end up with just have the halftones.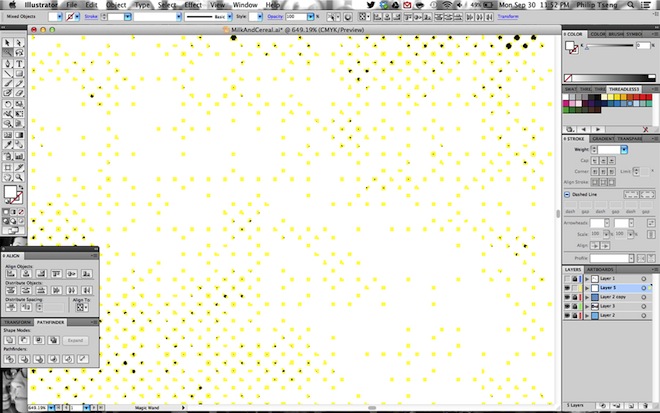 Zoom in to a section of the image. With the Magic Wand Tool (keyboard shortcut "Y"), click on a white part of the image and press delete.

Hopefully you end up with just the black halftones.

The last step is to change the color of the fill of the halftones to the background color of the design.


For all of our Teetorials, click here.