ThreadCalendar 2013 - Submission Closed
Hi dudes!
We launched the call to participate in the contest of ThreadCalendar 2013.
This year the theme will be "ANIMALS".
1.The designs must contain an animal. You must select an animal that starts with the letter of the chosen month. For example, to March, could work with Monkey, Mouse, Moose, etc..
2.Make sure to use the logo for the competition when you sub. Your design to threadless.
3.There is no limit to how many designs you can submit, one per month (12 total) or just one (for your favorite month)
4.You can participate alone or in collab with another designer/artist/sloganner.
5.Aside from having the opportunity to be printed by threadless we also want to be able to choose 12 designs for a Threadcalendar . There will be a design pick for every month of the year so we can complete a Threadless Animal Calendar 2013.
6.We will try to have a different designer for every month of the year so the Calendar can represent different styles and artists. If any designer gets more than one of his/her designs pick (said March and December) said designer will have to choose which one to have included in the Calendar and the person next in votes will take the place for the month not chosen by the designer.
7.Remember post your submit as comment in this post.
8.If you are the winner we will request the original file in vertical format
with the following specifications:

BLOG THREADLESS CALENDAR 2012
WINNERS THREADLESS CALENDAR 2012
PICS 2012 CALENDAR


ivanrodero´s pic


Goto75´s pic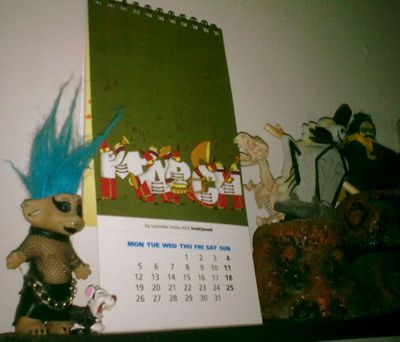 ArTrOcItY´s pic

Please comment on this blog and let us know if you want to take part of this challenge, we will like to start a list of participants.



AURORA'S ROAD



YaaH



ivanrodero



celandinestern



thatrobert



Manupix



nickv47



mike bautista


JonBurgessDesign



cARtOoNer


Ragnampiza


OhMyBatman



douglasoliveira


samalope



ArTrOcItY



TheInfamousBaka


Dexter Spandex


DavidBS


Sam Magee



eQuivalent



uptme



skiaras


karlijoy & thetideconsumesme


ahmad ifan rofiyandi


Thomas Orrow


palitosci



jeffreyg


maybet.acosta


spazio C


Musarter


fathi



Porompompero


filgouvea


Colortoast


Mikrobi


Raulio





Month per Month
AURORA'S ROAD

AURORA'S ROAD

Cheers!
soloyo & palitosci