Again with the test
ok.. so the last ones were crap apparently..
I threw this one at the judges.. but it had some words, which I deleted cos I thought that might have been the reason... but what du think?
would you buy this if it were a shirt here...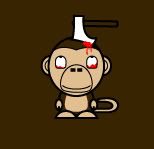 or is it the whole "thick outlines" thing that you guys hate?
I don't understand...
surely people want to walk around with a monkey with an axe hanging out his skull...