- • WIN A FREE SHIRT! • - • WINNERS ANNOUNCED! • -
WINNERS ANNOUNCED - We have a tie!
I could not decide between these two participants so there is a tie for first place! I am going to give two shirts away (crazy I know).
exin and her adorable rendition of a verry happy me had me from the minute I saw it. It is very simple but something about it just makes me smile big everytime I see it. Thank you exin!

and Ueno for both of your entries. I like them both very much. The fact that you did two alone is impressive. Together they won you a new shirt! Thank you Ueno!

Winners please email me at genee (at) littlegdesign (dot) com
Second Place - STP's
This was the hardest of all because I really wanted so many entries to win in the first place that 2nd place has become impossible! In the end I went with Hannabears "superstar" rendition of me. It's the closest I'll come to celeberty and it's fun.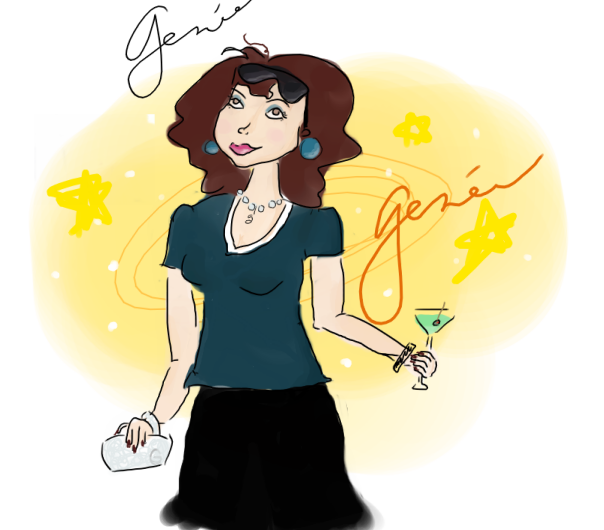 A Note to All Who Entered
I'd like to make it very clear I loved all of these. It was very hard to choose. Please don't take it personally if you did not win. I am so glad that you all entered. This was really fun. I hope to do another contest in the near future!
Honorable Mention's
A few honorable mentions need to go out to the subs that I felt had just a little extra something...
To Jublin for his hillarious and oh so flattering rendition of me in a pixie stick frenzy. Those ARE pixy sticks you pervs. At least I think they are O_o
<embed src="http://jublin.atspace.com/littleG.swf" width="300" height="350">
To miss mraz for a truely impressive photo collage. I would still love to see this at high-res and study it.

and to Ricco for his very cool and unique entry that had me studying it for a long time.

---
[Original Post]
The sale has made me giddy. I'm feeling generous so take advantage while it lasts!
OK, so I want a drawing of me that I can use for my profile pic or at least to put in my profile page. I'll pick the top two and give first place a GC good for one shirt during the sale and second place will get the stp's from the purchase. I hope that sounds fair enough to get people to try...
Really hoping you'll take a stab at it...
DEADLINE is set for November 20th at 10:00 a.m. threadless time. Can't wait to see the entries...</embed>