"Super Maui-O!" Design Process & 2 more subs up for scoring!
Here's a couple more designs to score too!

This is a design for the "Loves Summer" contest featuring characters from Super Mario.
First, is this concept printable? I also need some help coming up with a title for the design.
I was thinking of calling it "Super secluded sandy seashore" or something like that.
Any suggestions or comments are greatly appreciated.
edit: I just thought of a corny title. I might just call it "Super Maui-O."
Design Process:
• First I sketch out a concept on regular 8.5"x11.5" plain copy paper.
Original pencil sketch on 8.5"x11" paper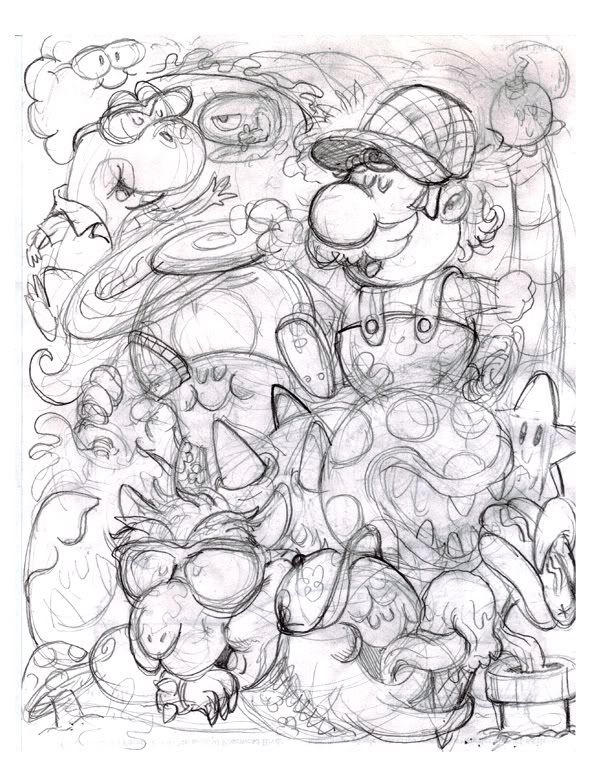 • Next I scan the sketch and bring it into Photoshop.
• After scanning the document, I adjust the levels in PS: Image-Adjustments-Levels. Play with the sliders so that you have a high contrasting black and white image, eliminating most of the grays.
• Next I use this great PS action found here to isolate my sketch from the white background.
The sketch should now be on its own separate layer with a transparent background.
• I then size my document accordingly, making sure the dimensions are large enough for the actual size
of the design to be printed on the shirt. I tend to work larger where my document is at least 25" wide by 30" length. It also depends if the design is a landscape or portrait view.
• I always make sure that I'm working at a high resolution of at least 300dpi.
• Now that I have my sketch in place, I name it my "sketch" layer. I begin to modify it by adding or deleting various elements. Basically I just play around with the design and mold it to what I want it to look like. I use a wacom tablet for this.
• While I am "fidgeting" and fine tuning my sketch, I am also trying to pay attention to the composition, colors and flow of the design. Do I want the eye to focus on a particular character or section? Is the design well balanced? Where should I strategically place my colors? What color combos work well together? These are just some of the many questions and obstacles I try to answer and overcome when creating a design.

• I like to work with the sketch using a blue color. It's easy to do this by adding a layer style to your working layer and choosing "color overlay." Layer - Layer Style - Color Overlay. I choose "blue" because I will be tracing over this layer in the next step and it creates a nice contrasting color from my line art.
• Next I create a new layer and label it "line art." This layer is directly above the "sketch" layer. I begin tracing over the sketch in black. The "blue" sketch beneath, is basically a guide for my line art. I don't have to follow it exactly and I often deviate from it, adding my own variations, revisions or additions
• To add more visual interest to the design, I like to create line work that varies in weight. There's always varying thickness and thinness in my lines and I hardly ever use a "static" line of one continuous weight. It's just a personal design preference.
• After my line work layer is finished, I begin adding new layers to the document. The number of layers you have is determined by the number of colors in the design. In this design, I have a total of 7 colors: black, white, light blue, red, yellow, green and tan. I'm also utilizing the actual shirt color (teal) as an additional color for this design.
• I like to create the "white" layer first, because it is the bottom layer of my design. The "black" line art layer is on the top, and all the other colors are beneath this layer. It's kind of like a sandwich, where the "white" layer is at the bottom (bread), the "black" layer is on the top (bread) and all the other colors are in between (filling).
• When completed, I have a document that consists of 8 layers. 7 layers correspond to the 7 different colors and the 8th layer is the t-shirt color teal.
Animated .gif of design process:
Teal (7 colors)

Army option (6 colors)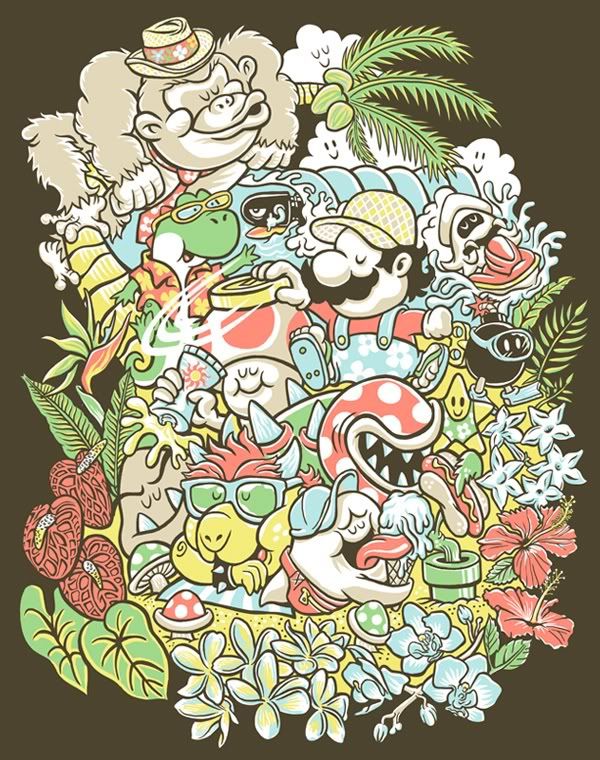 Seabreeze or light blue option (6 colors)

Teal tank and t-shirt

Army tank and t-shirt

Seabreeze tank and t-shirt