Reward! Have you seen my bicycle?
by cshimala
posted Aug 06, 2009
156 Comments
Holy missing bike Batman! We said we were going to do it in last weeks Friday Update with Sensei Festa and guess what we did! We've hung up some posters based off the above design around Chicago, Philadelphia, Brooklyn, London, Portland, West Palm Beach so drop what you're doing and rip 'em down to claim the copy of the tee hidden behind it. MORE Locations coming soon!
West Palm Beach

Rosemary south of daytura (north of cityplace)

Clematis east of quadrille (across from library)

The Clematis fountain

Lakeview and Flagler (under the bridge)
Portland Locations

On the corner of NW 24th and Irving.

Corner of SE Hawthorne and SE 36th Ave.

Corner of SE 16th and SE Pine (the lady who owns the store gave me strange looks as she came by to open up as I was putting it up)

On Portland State campus on the corenr of SW Hall and SW Broadway

BONUS picture! I doodled on the back of all the bags!
London Locations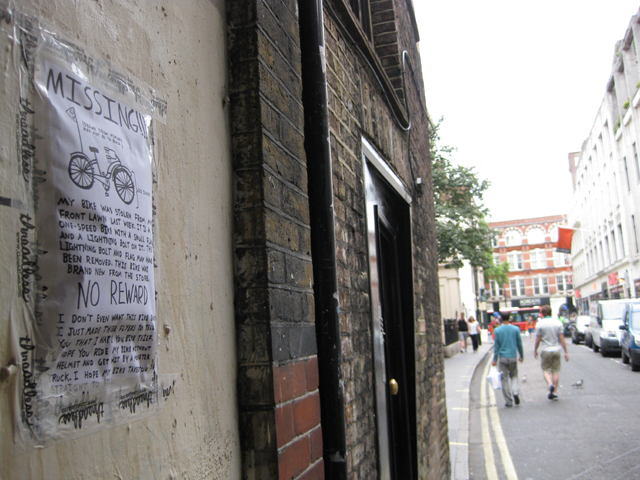 Corner of Manette St and Greek St - under the arches next to the "Pillars of Hercules" pub

Corner of Newman Street and Eastcastle Street - outside the "First Colour Print Centre"

Corner of Argyll Street and Great Marlborough Street - on the great british phone box!

Bottom of Berwick Street, next to Cass Art

Bottom of Berwick Street, next to Cass Art
All CHICAGO Bikes have been found!
All Brooklyn Bikes!
All Philly Bikes!