The Official Slogan Club (CONGRATS, SLOAG SUPERSTAR COURTNEY PIE!)!!!
posted Feb 28, 2007 in General
20227 Comments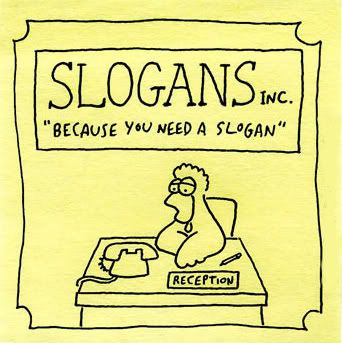 AS SEEN ON TEE-VEE!
STEP RIGHT UP & SEND A VOTE TO OUR MEMBERS!
To be a member of this list there's no secret handshake, but there are occasional dance-offs.
Thanks Threadless for giving this blog its very own 2009 Honorary Bestee Award!
NEW!
Click this way to inspect Jeff's TOP 20 MOST-PRINTED SLOGANEERS blog.
INTRODUCTION TO THE CLUB. SO LIKE, HEY AND STUFF.
Yes, it is indeed FRICKINAWESOME and Nintechno AKA He Who Now Plays With Power...Slogan Power!, (as well as OSC Junior Blog Deputies soloyo and rossmat8) welcoming you to the Official Slogan Club Treehouse Headquarters, where all matters that pertain to our love affair of witty word clusters will be discussed, dissected, ranted and/or raved about! Anything goes pertaining to the art of the slogan, with anyone who has at least five slogans and offically decrees their intent to join the Slogan Club by displaying their completed membership card upon this page will find FRICKINAWESOME's favorite slogans of yours at the top o' the blog, as well as a magical fairy dispatched to your house that will perform a Slogan Club induction ceremony with you and turn brussel sprouts into cinnamon bears! Note: there is a 1 in 1,909,448,039 chance of the fairy actually surviving the voyage to your home
The Official Slogan Club Membership Card created by MeLa de Gypsie:
NEW!


Learn how to best display your new favorite digital possession and more on Miskaji's excellent new & improved OSC Member How-To.
EXCLUSIVELY FOR OSC MEMBERS!
Recent OSC inductee Colorfool has graced our lil club with a machine that scoops all of our highest scoring slogans out of the quinzillians of slogan bottom feeders along with a ton of other interesting analyzes in his Slogan Statistics Blog. Don't forget to pack your thinking shoes!
For a list of ALL PAST OSC CONTEST WINNERS and a look at their shiny trophies, click here!
Check out a ton of blogs to many many cool slogan-related activities on Threadless by clicking here!
NEW SLOGAN EVENTS, NEWS AND GOINGS-ON
THERE'S A NEW VOTING SYSTEM IN EFFECT! GO ON OVER TO THE TYPE TEE MAIN PAGE AND FUNNY AWAY!
As if being Threadless's favorite sneak-peek photo getter to feed our new print addiction as well as one of the most guffaw-worthy OSC sloganistas working on the craft today, the guy who will only say "what's up?" to you once aka Soloyo has made a permanent blog for single sloganeers and designers who haven't met their perfect type tee mate yet to mingle about and hopefully ask one another to spend some time making wonderful shirt music together in The Official Slogan To Design Blog!
Now official 2009 Blogger of the Year jess4002 has made a couple more sloganeer dreams come true for the the holidays by taking it upon herself to mold their unprinted words of hilarity into an eye-catching typographic shirted masterwork (if only in the magical world of the interwebs) to her all-you-can-read buffet of one-day slogan shirts!
IT'S TIME FOR THE KOLLAB KORNER KIDDIES!
Any Slogan Club member that has a collab or solo submission in the main competition, please feel free to notify the blog and we will post it up here to give it extra special Slogan Club treatment!
IF I HAVE MISSED ANY MEMBER'S CURRENT DESIGNS OR COLLABS, PLEASE POST THEM ON THE BLOG AND I WILL UPDATE ASAP!
WELL WHEN (and if) WE START THIS SECTION UP AGAIN.
NUMERALS AND NUMBERS SECTION
Number of prints current Club members who have had their slogans magically turn into shirt form on Threadless: 96! WHO SHALL BE THE 100TH PRINT FOR THE CLUB'S TROPHY SHIRT WALL?!?!

By FRICKINAWESOME (10th Type Tee)

By Brentendo & rossmat8 (4th Type Tee)

By sidepull

By Bio-Bot 9000 (6th Type Tee)

By nathanwpyle at gmail.com

By FRICKINAWESOME (9th Type Tee)

By FRICKINAWESOME (8th Type Tee)

By Bio-bot 9000 (5th Type Tee)

By FRICKINAWESOME (Select, 7th Type Tee)

By Brightwood (2nd Type Tee, Reprints: 1)

By PuppetMeat (3rd Type Tee, 2009 Bestee Slogan of the Year Winner, Reprints: 1)

By FRICKINAWESOME (6th Type Tee)

By lunchboxbrain (2nd Type Tee)

By Bio-Bot 9000 (4th Type Tee)

By Bio-bot 9000 (3rd Type Tee)

By Bio-bot 9000 (2nd Type Tee)

By juliejeremiah (2nd Type Tee)

By FRICKINAWESOME (5th Type Tee)

By Martiandrivein (3rd Type Tee)

By JefAndLaurenRockHarderThanMost

By Maltzmania (4th Type Tee, Reprints: 2)

By FRICKINAWESOME (4th Type Tee)

by Martiandrivein (2nd Type Tee, Reprints: 2)

by FRICKINAWESOME (3rd Type Tee, Reprints: 1)

By SnakeMan (Bestee Winner, 2008, Reprints: 3)

By FRICKINAWESOME (2nd Type Tee, Reprints: 1)

by Larlar (2nd Type Tee, Reprints: 2)

by FRICKINAWESOME (Bestee Winner, Reprints: 8)

by Martiandrivein (Reprints: 8)

by Juliejeremiah (Reprints: 2)