The College! challenge winner is here!
326 designs /
1

printed

design

/ 132,651 votes placed
The challenge was
Design a t-shirt inspired by one of 15 universities.
The stands are packed and the big game is about to start. You've got your hot dog and your Cracker Jack, but there's one thing you can't live without when you're root root rooting for the home team—and it's not a foam finger. One of the best parts of cheering on your beloved school is wearing your favorite mascot tee as you chant "De-fense! De-fense!"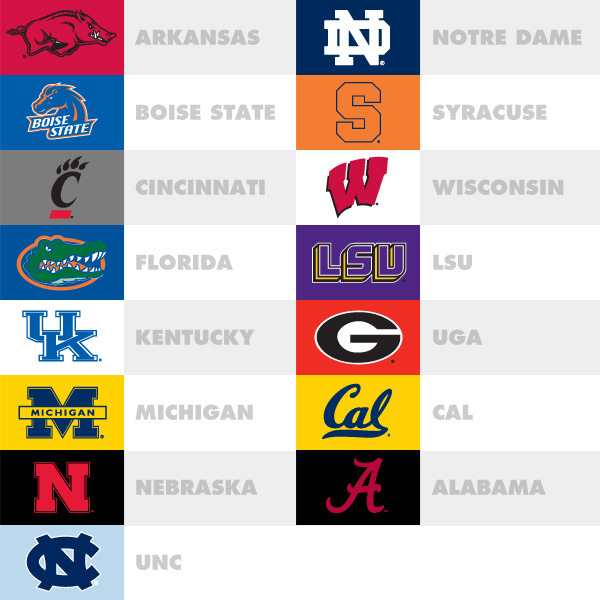 Your assignment is to create an original t-shirt design that represents one of the colleges listed above. If your design receives an A+, you could win $2500. Whether you're a current student, alum, or just a college sports fan, get creative with your favorite school's signature colors, logo, mascot, school song, or anything else that triggers your school pride. Go ahead, give it the old college try!
Keep in Mind:
No offensive or inappropriate content or references to sex, drugs, alcohol, or religious icons will be permitted.
You may not use names, images, or likenesses of current or past players or coaches.
Vintage school logos are not permitted.
Rivalry designs are not allowed. Please only use one school in your design.
University of Michigan submissions may not include reference to the wolverine mascot or the Marvel character Wolverine.
University of Alabama submissions may not include the houndstooth pattern.
Need to know more about the participating universities? Download our reference kit to get schooled.
don't forget to TAG YOUR SUBMISSION!

Use the school tags listed in gray in the graphic above so we can filter your submissions by school.

Got spirit but not the designer-y type? You could still score $500 in Threadless cash.
The winner received
One grand prize winner will receive $2500 cash.

14 runners-up will be chosen, one design from each of the other participating schools. Artists will receive $300 cash and additional compensation based on the quantity of t-shirts produced.

The chosen designs from this challenge might pop up in college bookstores, department stores, or anywhere else school spirit reigns.
Designs from this challenge
Tailgate
Tailgate seeks to be the leading brand of quality collegiate apparel offering premium design and vintage American styling.