The Threadless 20th Anniversary challenge winner is here!
2,157 designs /
1

printed

design

/ 66,280 votes placed
The challenge was
20 years of YOUR art and design—let's do this!
We want the best of the best for this challenge.
The last 20 years have been a wild ride. Throughout our history, our Design Challenges have helped Threadless become a playground for imagination. Since we introduced the feature, artists have submitted almost half a million original designs with eclectic themes ranging from dad jokes to ugly Christmas sweaters. More than 9,500 of those designs have been printed!
We're excited to announce that our next Design Challenge coincides with significant improvements to the submission process, not to mention some HUGE cash prizes for the top five best designs! Like up to $10,000 huge, y'all!
We've replaced the old submission form with a new format allowing Artist Shop owners to submit to Design Challenges directly from the product creation tool in their Artist Dashboard. This means in order to participate, you need to have an Artist Shop, which provides you with a completely customized shop for your work. If you don't already have one, we will create one for you automatically when you click "Submit"*. As an added bonus, the designs you submit will be available to purchase right away as soon as you publish them!
For the Design Challenge itself, we want to celebrate the 20th anniversary of Threadless with your absolute best work in any theme you'd like. We're looking for the type of stuff that'll make jaws drop, make people cry tears of joy, make people hug—when it's OK to do so. While we know this challenge is wide open creatively, we trust you and your amazing skills to deliver work that is all about YOUR aesthetic, technique, and style. Create art you know people will be proud to display day in and day out, whether on a t-shirt, fine art print, or any other Threadless product.
Let's celebrate the past and look to the future with this Design Challenge!
* While having an Artist Shop is required to submit to this and future Design Challenges, you don't need to publish your shop to do so.
ACCEPTING SUBMISSIONS BEGINNING FRIDAY 11/27/20, 10:00AM CST
The winner received
First Place (1): $10,000 Cash

Second Place (1): $5,000 Cash

Third Place (1): $2,000 Cash

Fourth Place (1): $2,000 Cash

Fifth Place (1): $1,000 Cash

Plus, anyone who is printed (including the grand prize winner) will receive up to $7 on each tee of their design sold on Threadless.com! Read more...
Threadless Classics Through the Ages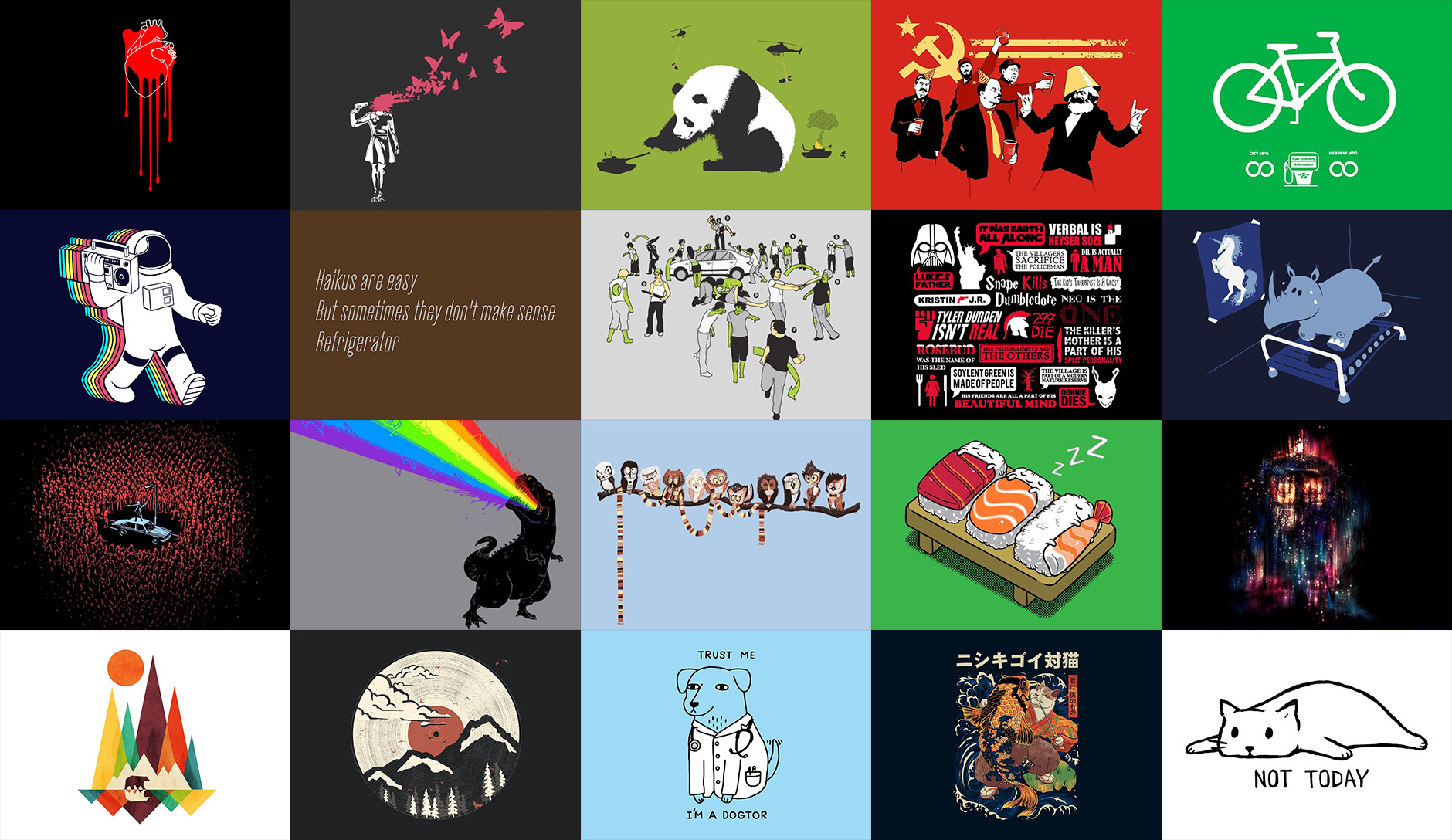 Designs from this challenge