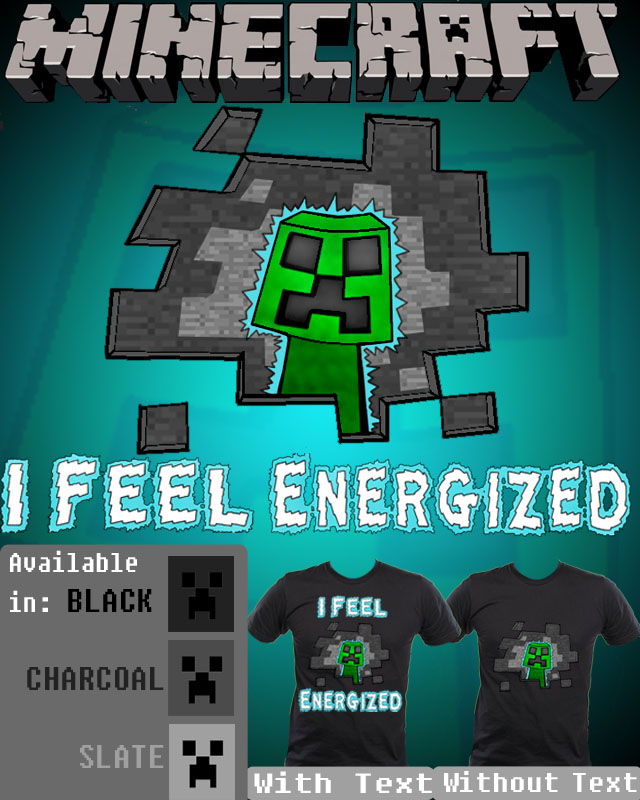 About the design

on October 2, 2012
IMPORTANT: For a better view of the design please look at the other slides.
How can you describe the feeling you get when you play minecraft? Do you feel happy? Excited? How about free? With infinite possibilities, no boundaries and the only limit is your imagination. Its your choices, your ideas, your world. Makes you feel powerful right? How about godly? My point is Minecraft has its own source of energy. An energy that stays with you even after you stop playing Minecraft. The energy, equivalent to that of a Charged Creeper.
With the I FEEL ENERGIZED t-shirt you can feel full of energy all day long and look great at the same time. Plus the blue electricity on both the charged creeper and the text will be printed with Super Glow ink so you can stay energized all night long. There are 3 T-shirt colors to choose from: Black, Charcoal, and Slate. You may also purchase each colored shirt with or without the I FEEL ENERGIZED text.
Note: I am aware that my design looks similar to the Creeper Inside design but I had no intentions of copying it. I spent a lot of time on this and I thought it would be super awesome if I added Super Glow to the charged creeper so it could glow in the dark. I would appreciate everyones feed back and I hope you like it. Thanks for voting