Showdown at the Hen House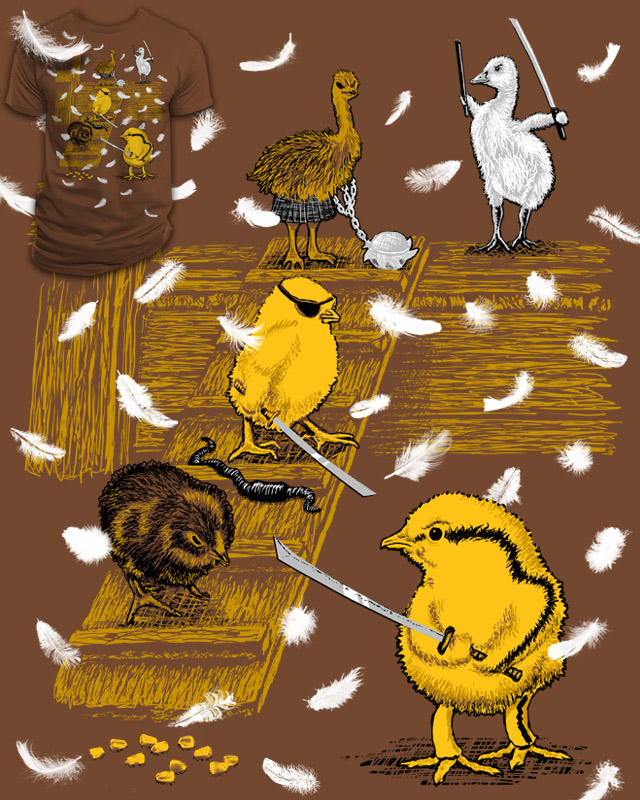 About the design

on December 16, 2010
We all enjoy a good chick fight. That's why Nestor Soloyo and I decided to pay homage to the greatest chick fight ever.
Now these aren't ordinary chicks. They are trained, cold blooded assassins. And they're getting in our heroin's way, but she won't let any of them stop her from getting into the Hen House to reclaim her child (an egg, of course).
She'll resist the urge to peck at some corn grains, thus defeating her first opponent. She'll face the one-eyed blonde and her black mamba worm. She'll get tough with the deranged bodyguard and her dangerous chain mace. And she'll finally engage battle with her ultimate adversary, the ruthless White Swan.
You might notice some common ground with a now classic Threadless shirt. It wasn't intentional but it wasn't avoided either, as we both admire the artist and his work.
We hope you like it!
5 colors.
Bigger view:
Design
Placement
Thanks to NiNTHWHEEL for the great template.