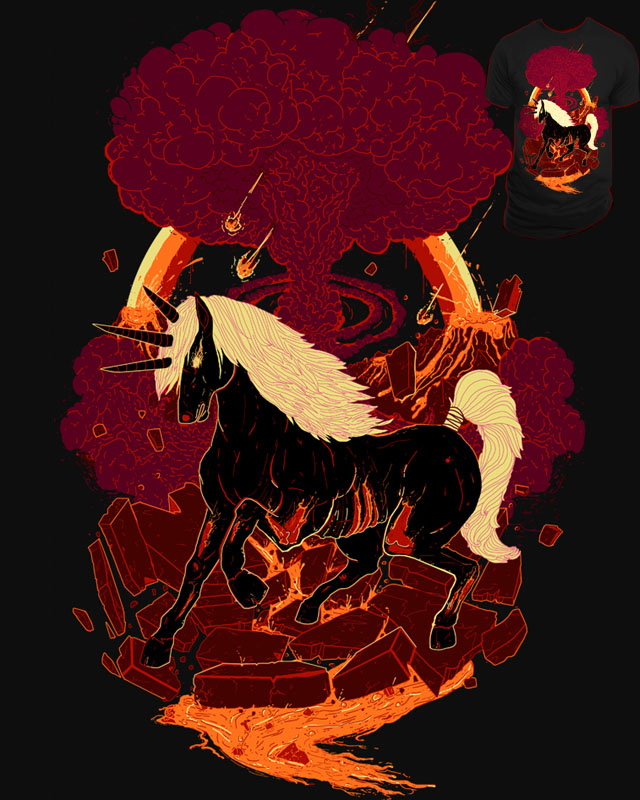 About the design

on December 2, 2010
"Rocketing through the galaxies on the deepest of Bass notes, the DOOMICORN arrived on earth with a thunderous explosion of carnage and fury.
The most savage of bros to ever cast his eyes upon earthlings, he took to himself over an hundred of the female equines to be his wives, from which was spawned the Unicorn.
However - disadvantaged by their pathetically normal earthen mothers - the unicorn had but ONE horn, and only did emanate beauty and serenity. The DOOMICORN, grieved with their lack of hardcore ferocity, with great masculinity, sentenced the Unicorn BANISHED forevermore to the world of make-believe and little girl's imaginations.
Then, with awesome sorrow, and a fivestar hairflip, he cast his gaze skyward and streaked off to find another planet, worthy of his raw testosterone packed-raditude."
.. I hope everyone can appreciate the satirical twist.
I wanted to contrast the typical sunset, calm ocean breeze and serenity of ANY and ALL unicorn pictures with something.. quite the opposite.
DETAIL SHOT:
FOUR CLOSEUPS AT ONCE? HOLY COW!
AND! Don't forget to enter your name at:
THIS BLOG
For a chance at winning free goods!
Big thanks to Pilihp for the TEMPLATE!
And super huge thanks to Wyatt Ledbetter for putting it all together for me!