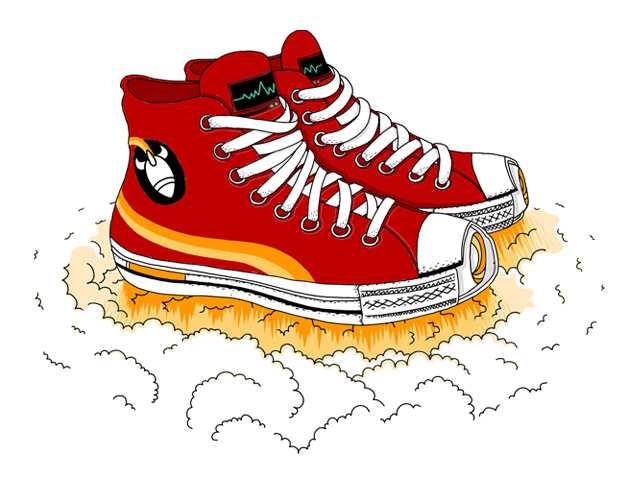 About the design

on February 1, 2010
The new trend is ROCKET SHOES!!! But also specialty inks – threadless has a wide variety of specialty printing methods but other than UV and glow ink none of them ever seem to get used. Threadless's staff can use their expertise to determine any combination of the following printing techniques to get the most out of my design.



The rocket stream can be printed with glitter, the red on the shoe could be printed with flock, the white areas on the shoe can be vinyl, the laces puff and the flames and rocket logo with blister.



And now for a funny story about how this design came about...



Initially puzzled by the seemingly impossible new trend brief i consulted my partner Bianca for some much needed inspiration. When i told her that the brief was about creating a new trend she instantly told me to finally create that damn teleporter i've been going on about any time we were on a long an unpleasant walk or an important item loomed fractionally out of reach.



It was a good idea although i wasn't convinced that this was the kind of trend threadless was really after and proceeded to tell her about my poignant environmental ideas to which she shook her head in disgust and then began to inform me as to how serious and boring i have become.



Why don't you just make something fun like sky diving iguanas, ninja toast, babies with other women (she may not have said that) or rocket shoes!!!



Despite my continual concerns Bianca remained adamant for several days that rocket shoes would in fact be the only trend that could or ever will be and told me that if i didn't draw some she would chop off my toes and feed my liver to the Koalas.



Come get your rocket shoes!!!