You may already be a winner!*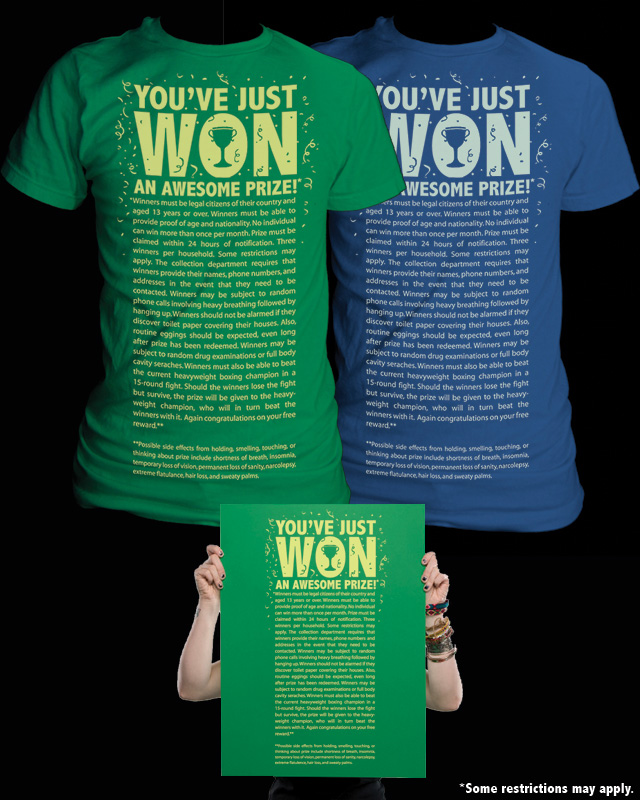 About the design

on February 12, 2009
EricDiaz and rossmat8 would like to congratulate you on winning this amazing prize! Please take some time to read the fine print:



*Winners must be legal citizens of their country and aged 13 years or over. Winners must be able to provide proof of age and nationality. No individual can win more than once per month. Prize must be claimed within 24 hours of notification. Three winners per household. Some restrictions may apply. The collection department requires that winners provide their names, phone numbers and addresses in the event that they need to be contacted. Winners may be subject to random phone calls involving heavy breathing followed by hanging up. Winners should not be alarmed if they discover toilet paper covering their houses. Also, routine eggings should be expected, even long after prize has been redeemed. Winners may be subject to random drug examinations or full body cavity searches. Winners must also be able to beat the current heavyweight boxing champion in a 15-round fight. Should the winners lose the fight but survive, the prize will be given to the heavyweight champion, who will in turn beat the winners with it. Again congratulations on your free reward.**



**Possible side effects from holding, smelling, touching, or thinking about prize include shortness of breath, insomnia, temporary loss of vision, permanent loss of sanity, narcolepsy, extreme flatulence, hair loss, and sweaty palms.



Thanks to the people who helped out on this, you know who you are!