Sgt. Pepper's Musical Chair Orchestra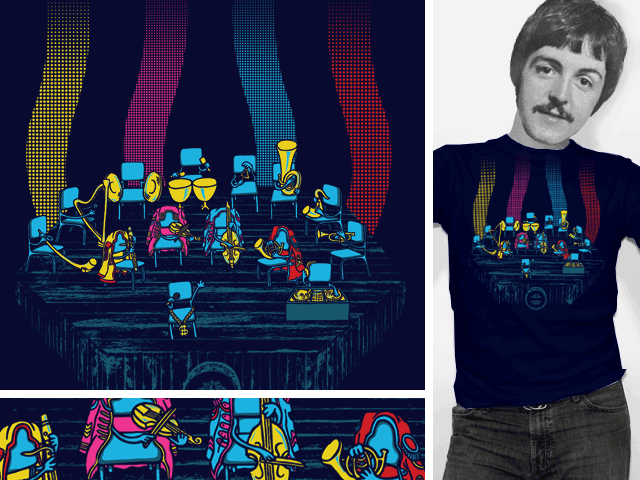 About the design

on September 13, 2007
Wandering Bert and Frickinawesome wish a good morning good morning to everyone!



When The Beatles weren't fixing a hole in the world of music and crafting arguably the most influential pop album of all time, they got a little help from their friends in the form of their biggest literal supporters: their studio chairs!



Somehow all of the aural intensity running rampant from those four musical magicians brought the inanimate world of objects in their studio to life! Oddly, the sound engineer Mr. Kite and his lovely assistant Rita were the only ones to witness this dream-like entity become a reality. Everything quickly went back to normal when the Beatles would slip back into Abbey Road Studios to lay down more energy-infused tracks, none the wiser to the mystifying events that were occurring all around them.



Whittled down from an arrangement of sixty-four, these noteworthy one-seaters secretly blasted out tunes for months and months. Over and over again they detailed what a day in the life of a lounging object was like, filling the studio's sky around them with twinkling diamond-like colors and charged emotions. The Musical Chair Orchestra had to admit to themselves they were getting better every time the Beatles went out for a smoke break and just let them be whatever they wanted.



Finally, the day came when the Beatles had sung their last note and strummed their final weeping guitar chord to their masterful album, tossing all the instruments and seats into a big, emotionless storage facility. Mr. Kite questioned what he had seen in those glorious few months. Had he just been intoxicated by the moments of monumental creativity and imagined within himself, without himself and in spite of himself the events that had taken place?



As he began to close the latch and lock up the door to Abbey Road Studios, he heard a sudden burst of music and a humongous racket inside, as if someone had been fiercely playing a violin and then smashed it hard against the ground. Returning to the studio, Mr. Kite found nothing out of the ordinary at first.



He then spotted something in the corner, something that the other indifferent and hasty grab-happy movers had failed to pack away. A single small, mostly-worn out chair lay turned on its side, tangled within a jungle of soundboard wires. A broken violin was also mysteriously entangled next to it. Mr. Kite picked up the forgotten objects, placed the violin pieces in his large bundle, and slowly dragged the chair out of the studio.



Maybe it had all been in his imagination, but as Mr. Kite walked out of the building and left for home that final day, he carried with him a new piece of furniture to sit on and contemplate all that is possible and magical in the world, when the right meaningful piece of music comes on and gives anyone or anything the power to achieve the impossible.