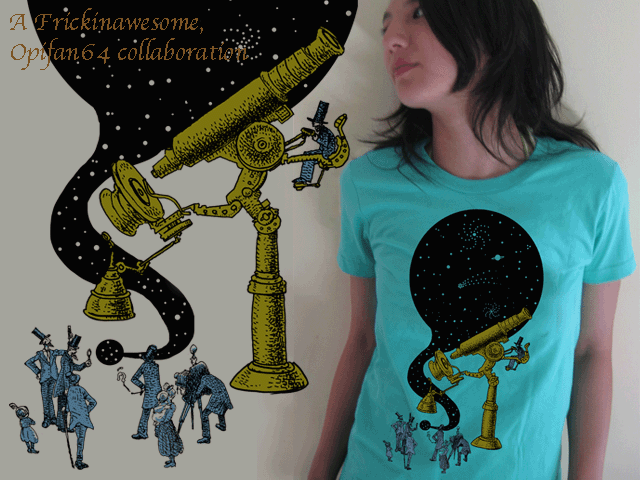 About the design

on August 31, 2007
A Frickinawesome, Opifan64 collaboration for the Mae Singularity contest.



Excerpt from The Abridged History of the Paranormal: In 1817, a small gathering of curious

onlookers, dignitaries, and esteemed scientists were on hand to witness the unveiling of Dr.

Theodore Horton's "Great Discovery" as it was later called in the press. Those in

attendance were less effusive and mostly dismissed the presentation as an elaborate hoax or

illusion. Despite this scepticism Dr. Horton was insistent that what he was showing them was a parallel universe, and invited witnesses to examine the phenomenon themselves through the special viewing apparatus he had commissioned for the unveiling. The enormous microscope was unceremoniously dubbed "Dr. Horton's elephant-scope" by one bemused onlooker. Among Dr. Horton's more outlandish claims was that the careful listener could detect a faint "cosmic music" emanating from the singularity, but he cautioned the audience that the music was undetectable by any standard measuring device and would only reveal itself to the imaginative and receptive mind - a remark born out by the fact that only the children in attendance seemed to be able to hear it. It wasn't long before Dr. Horton's reputation fell into disrepute, as no other scientists could repeat or corroborate his observations. After enjoying a brief stint as a carnival attraction, Dr. Horton and his mysterious singularity both vanished into obscurity, although his "elephant-scope"

is still in storage at the Smithsonian Institute as part of their science and ephemera collection. Author's note: No trick lenses, or visible means of deception were discovered when the device was studied and dismantled by the Harvard Engineering Department. To this day it remains a mystery as to how Dr. Horton achieved his remarkable illusion.