Loves Pin-ups -- UP FOR SCORING!
posted Feb 18, 2012 in general
11 Comments
Who doesn't love pin-ups, am I right? The challenge is ending in a couple of days and I wasn't originally going to submit anything, but then the idea popped into my head and I had to roll with it. Good start.
But the hardest part about drawing a pin-up is getting your sexy lady just right, it's tough... I can draw jacked dudes with guns and trench coats all day long, but a curvaceous sultry dame—well, that's a horse of a completely different color. So I thought I'd lay it all out incase any of you out there in the 1's and 0's is interested.
STEP 1: The Idea
Pin-ups are a classic form of American art, from the front lines to the locker rooms, these babes practically scream stars and stripes. So awesome, pin-ups are also often associated with tattoos—double awesome. In fact, the winning design is going to be reproduced as temporary tattoos—even better. So "classic" and "tattoo" are my terms, which made me immediately think of the groundbreaking artwork of tattoo pioneer Sailor Jerry. Done and done.
STEP 2: The Sketch
This part is easier said than done. Like I said before I can't draw women all that great(at least at first, it takes time and I have to draw her over and over again). And I'm not looking to reinvent the wheel, so once again, I'm looking to the classics for inspiration.
My reference for the pose is this classic WW2 piece:

A couple of years ago I made this personal piece using that pose as a reference:

From that, I went back into my files and dug up my original ink sketch: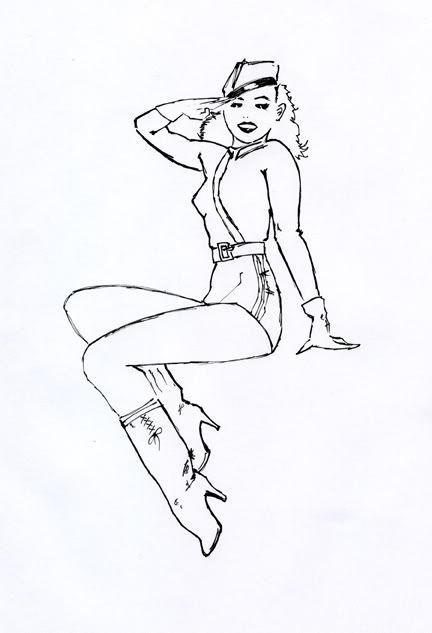 Which I printed out in cyan, and messily sketched over and over, erasing and redrawing until I got my sketch the way I liked it: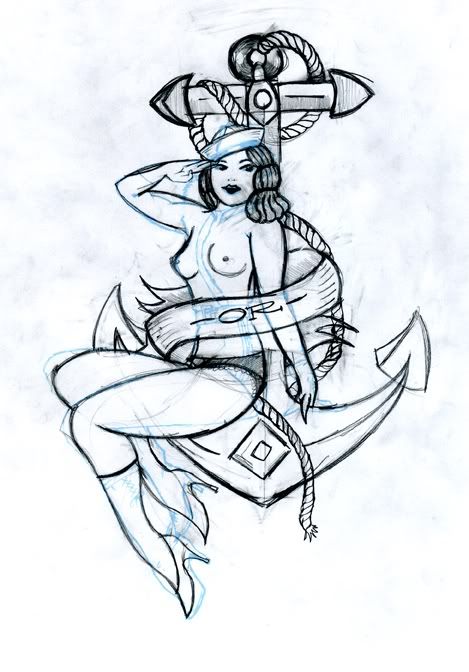 STEP 3: Ink
Next up I bust out my light box, some card stock and my black micron #8 so I can get some nice thick lines for that tattoo feel: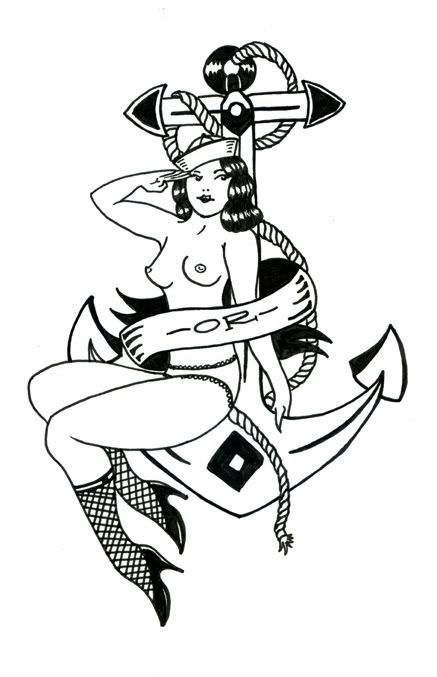 Then my type:

STEP 4: Photoshop
Fire up the scanner, set her to 600 dpi, bring her into PS and let's color this gal in: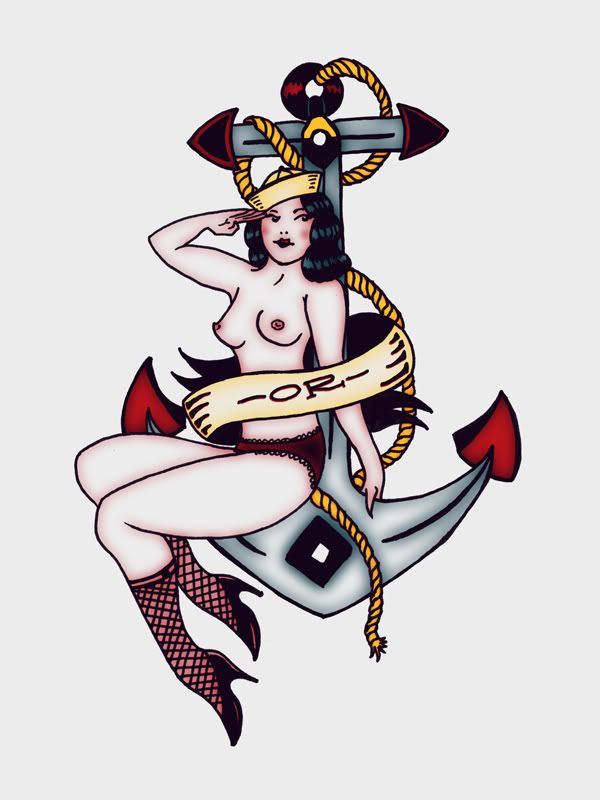 Simplify the File, Add the Text, Adjust Colors, Distress & Apply Halftones:

Do a 2-color version, because 2-color always pops: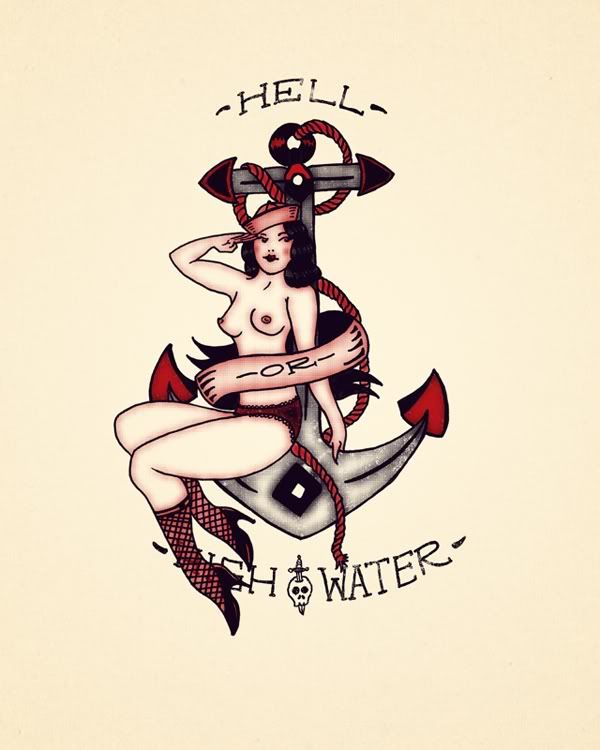 STEP 5: Which One Should I Sub In????
4 Color Classic: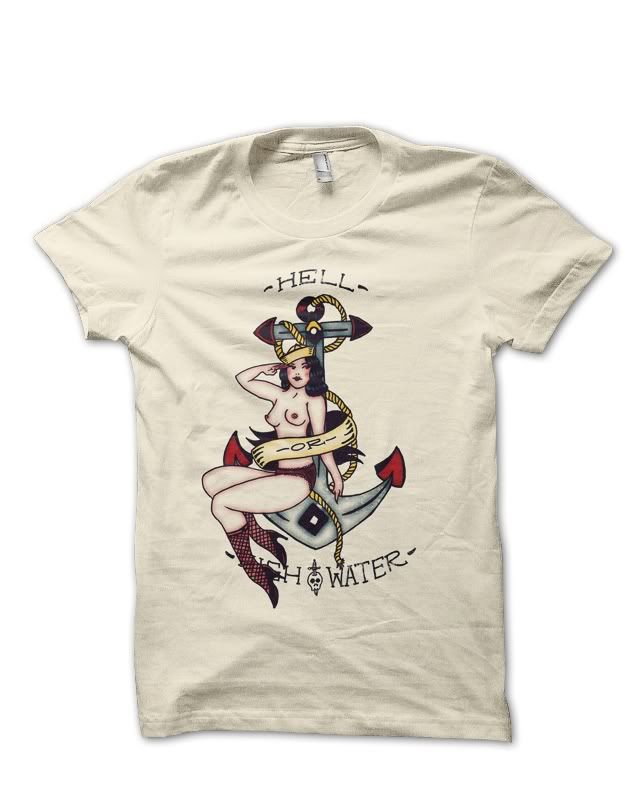 Or, the Two Color Version:

STEP 6: Get Feedback
I worked on the boob and moved the text down (i don't have time to redraw the bum though, I have to sub this in so i can enjoy the rest of the long weekend!):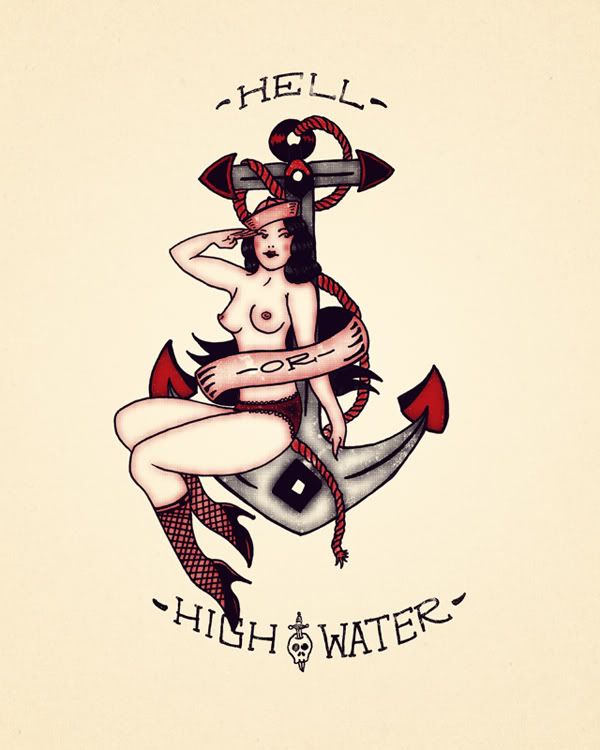 I also made the placement larger:

And Here are Some Detail Shots:
THANKS FOR LOOKING!!!