Threadless Guide (1)
Welcome to the unofficial Threadless guide! This is a short, four-chapter guide that will help beginners get their footing here while also acting as a resource for veteran designers honing their skills.


This first chapter will be for the newest members of Threadless. It introduces you to Threadless itself and some of the basics of graphic design. It may be worth a read even if you know a bit about these things already; you might just learn something new.
Threadless began in the year 2000. Since then, they've grown to become a rather famous company (at least here in the States).
Some new users worry about whether Threadless is reliable. They are very reliable. Many designers -- myself included -- can tell you that really do pay you all that money if they select your design (I mean, c'mon, they have their own Wikipedia. They've gotta be legit).
As you'll quickly learn, Threadless isn't just about you making things all by your lonesome. There's an active community of people here on the forums, like myself, who are always around to help you and be your friend. Some of them are designers, others just like to hang out and be awesome.
If you plan on designing here at Threadless, you should spend some time here on the forums. People here are great, and you might meet some new friends. Maybe one day you'll want to attend the annual meet-up that happens every summer in Chicago at the headquarters of Threadless!
The community, like Threadless itself, is super trustworthy. You don't need to worry about people stealing your ideas or art. That sort of thing is pretty much unheard of here. Instead, you can use the community to help you out with your designs: post your works in progress (WIPs), send people your design files...all of that good stuff. They'll help you out!
Threadless prints your art on tees, but they don't print every style of art. The community favors particular styles over others. In fact, it's possible to see trends in designs that do well and have that 'Threadlessy feel' to them. I've done my best to try to figure out what it is that makes particular designs score well. I've narrowed it down to two attributes: concept and aesthetics.
The concept of a design is the story. All designs should invoke some thought within the viewer, but some do it more explicitly than others. Here's an example of one, Have You Seen Him? by Phil Jones:
This design is telling us a joke. It makes sense to everyone who looks at it. That's this design's concept.
Sometimes, really strong concepts can push a design to get printed, even if the illustration isn't as strong. Take an early design of the exceptional artist rodrigobhz, for instance: I Told You Not to Play With Matches.:
This isn't an ugly design, by any means. But it's doesn't compare to the amazing works of art rodrigo has submitted since.
This brings us to the other property of well-scoring designs: aesthetics. The aesthetic value of a design is just how nice it is to look at. The community here, as you might expect, scores designs high that are a treat to look at. Sometimes, designs don't even have a specific message, and instead appeal almost entirely to your aesthetic senses (and imagination). Take, for instance, Niel Quisaba's design, Cosmic Dreams.
Niel isn't sharing with us any particular story. Rather, he's created a beautiful work of fantasy that hints at a story while keeping the details a pleasant mystery.
Of course, designs aren't only conceptual or only aesthetic. All designs have a bit of both. But it is typically the case that high scoring and printed designs are really strong in at least one of these areas. If your designs aren't doing well, it might be worthwhile to focus on improving them with this in mind.
The vast majority of designs here are made with computer assistance. Many artists use more than just a mouse and keyboard, though. What we use is called a graphics tablet, or tablet for short.
Tablets let you draw right into Photoshop. Other than just giving you the feeling of drawing with a pen, there are a surprising number of features in a tablet pen: pressure sensitivity, angular sensitivity, and an eraser.
Technically, you don't need a tablet to create a design for Threadless, but I imagine drawing with a mouse would be much more frustrating.
Though there are numerous tablet companies, the one I trust most is Wacom.
Unfortunately, one of their tablets can be a steep investment. Currently, their cheapest option is $79. The one I have, the Intuos Medium, runs for $350.
If you plan on investing time in digital illustration, I think it's worth it. As you already know, there is a substantial reward for being selected for print here.
For me, my tablet is like a best friend -- I really don't know what I'd do without it!
Now that we've got the hardware figured out, we need to know more about programs. Ultimately, the program you choose depends on two factors: the type of design you'll be making and the amount of money you've got to spend.
Let's first look at what I mean when I say 'the type of design you'll be making.' There are two types of images: raster and vector.
Raster images are the more familiar of the two types. They're made up of pixels. When zoomed far enough away you see a nice lovely image. But when you get too close you can see the pixels:
.
Vector images are quite different. With vector art, a mathematical algorithm defines the width and angle of the curves. A consequence of this is that vector images look smooth and clean no matter how far zoomed in you are. Look at this comparison of raster and vector images: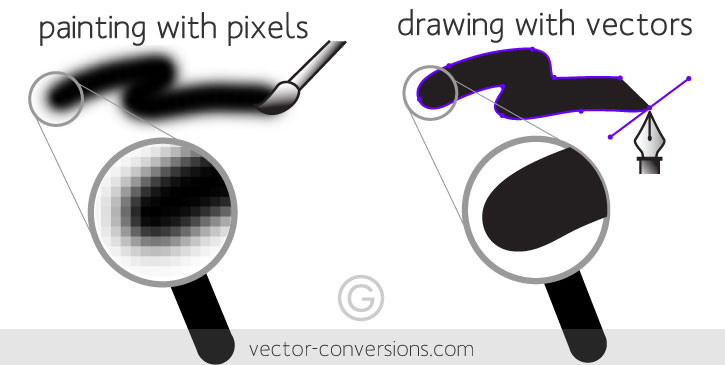 In addition, raster and vector art tend to look quite different when you're done with your design. It's easy to add lots of details and texture to raster art, allowing you to give the appearance of traditional media like paint or marker. In contrast, vector images look much more smooth and crisp than raster images.
Here's an example of a vector design:
And here's a raster design:
Of course, the end result of raster and vector designs don't always look like this. Browse the catalog of threadless shirts and see if you can pick out which are raster and which are vector!
This difference is reflected in the software that designers choose to use. Some software has powerful raster capabilities. Other software is geared toward vector illustration. If you're new to designing, you'll need to select your program accordingly, or give both a try.
I happen to stick exclusively to raster images and Adobe programs. This is probably the most common choice among designers, but that doesn't mean it's right for everyone. Here's a brief rundown of the most popular software choices:
Adobe Photoshop: Raster imaging program. Costly (in the range of several hundred dollars).
Adobe Illustrator: Vector software, costly like Photoshop.
The Gimp: Raster, and free!
Inkscape: Vector, and free!
Again, I only work with Adobe Programs, and specifically, raster images. Consequently, the content of this blog will at times refer specifically to the process of designing within Photoshop. For Gimp users, there are probably many of the similar options available in that program. For vector artists, the general process of designing will be the same, but we will differ on the particulars.
Once you've thought about what program might be best for you, or even acquired one, you've finished the first chapter of this guide. In the next chapter, we'll be making a design for Threadless.