Has Anyone Else Been Following This?
posted Apr 18, 2008 in general
39 Comments
416 Children Taken From Polygamous Ranch in Texas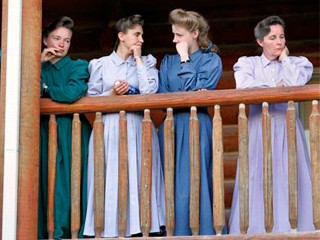 After hours of lawyers popping up with similar objections and questions, a custody hearing for 416 children seized from a polygamist sect finally turned to whether they were abused: A child welfare worker said some women at the sect's ranch may have had children when they were minors, some as young as 13.
The testimony came late Thursday, the first day of a court hearing to determine whether the children, swept up in a raid on the ranch two weeks ago, will remain in state custody. Child welfare officials claim the children were abused or in imminent danger of abuse because the sect encourages girls younger than 18 to marry and have children.
<object width="425" height="355"><param name="movie" value="http://www.youtube.com/v/05oKm3oEVbc&amp;hl=en"></param><param name="wmode" value="transparent"></param><embed src="http://www.youtube.com/v/05oKm3oEVbc&amp;hl=en" type="application/x-shockwave-flash" width="425" height="355"></embed></object>
<object width="425" height="355"><param name="movie" value="http://www.youtube.com/v/YoMHNyN8ZLw&amp;hl=en"></param><param name="wmode" value="transparent"></param><embed src="http://www.youtube.com/v/YoMHNyN8ZLw&amp;hl=en" type="application/x-shockwave-flash" width="425" height="355"></embed></object>