The results are in!
Together, we've made something great! After 83955 votes on 273 designs, here's what was chosen. Thanks for playing!

by Katie Campbell
aka campkatie
Savannah, United States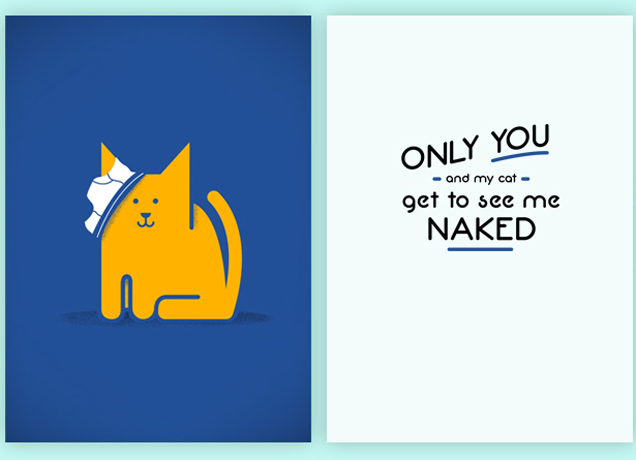 Your challenge
Create a Threadless greeting card.
Birthdays. Baby showers. Cat christenings. Life is full of important events. And nine out of ten grandmas agree: It's always polite to send a card. That's why we want to make our very own Threadless greeting cards!
Your challenge is to design the front and write an original message for the inside of a greeting card! This is a great opportunity to grab your writin' buddy and collab on a card that makes someone cry, smile, and LOL at the same time. Sloganeers, we're "thinking of you."
You can design for any occasion. Data shows more and more people are celebrating birthdays every year, so we'll definitely be looking for some birthday cards to fill the increasing demand. But we're open to just about anything!
Go on and get started. This challenge is addressed right to you.
Legal stuff
Here's how it works
1

Get your idea ready to submit

Read our submission guidelines to learn about printing techniques, creating high resolution artwork, preparing presentation files, and following the rules! You'll also find color specifications and downloadable assets like templates and blank photos for mockups.

2

Submit to the challenge

Once you've prepared your design files, it's time to submit it for scoring! Follow the instructions and fill out the form (the whole thing).

Submissions have closed.

3

The community scores your design

For 7 days, the Threadless community scores your design 1 to 5 and leaves comments. These scores and comments help us pick which designs to print. You're encouraged to promote your design to friends, family, and the rest of the Internet!

4

If your design is printed, you'll get:

$1,000 cash for grand prize

50 copies of your greeting card for grand prize

Other designs chosen for print from this challenge will receive compensation based on the quantity printed.