The results are in!
Together, we've made something great! After 113154 votes on 249 designs, here's what was chosen. Thanks for playing!

by Trevor Knapp Jones
aka yebkamin
Valencia, United States
Buy it Now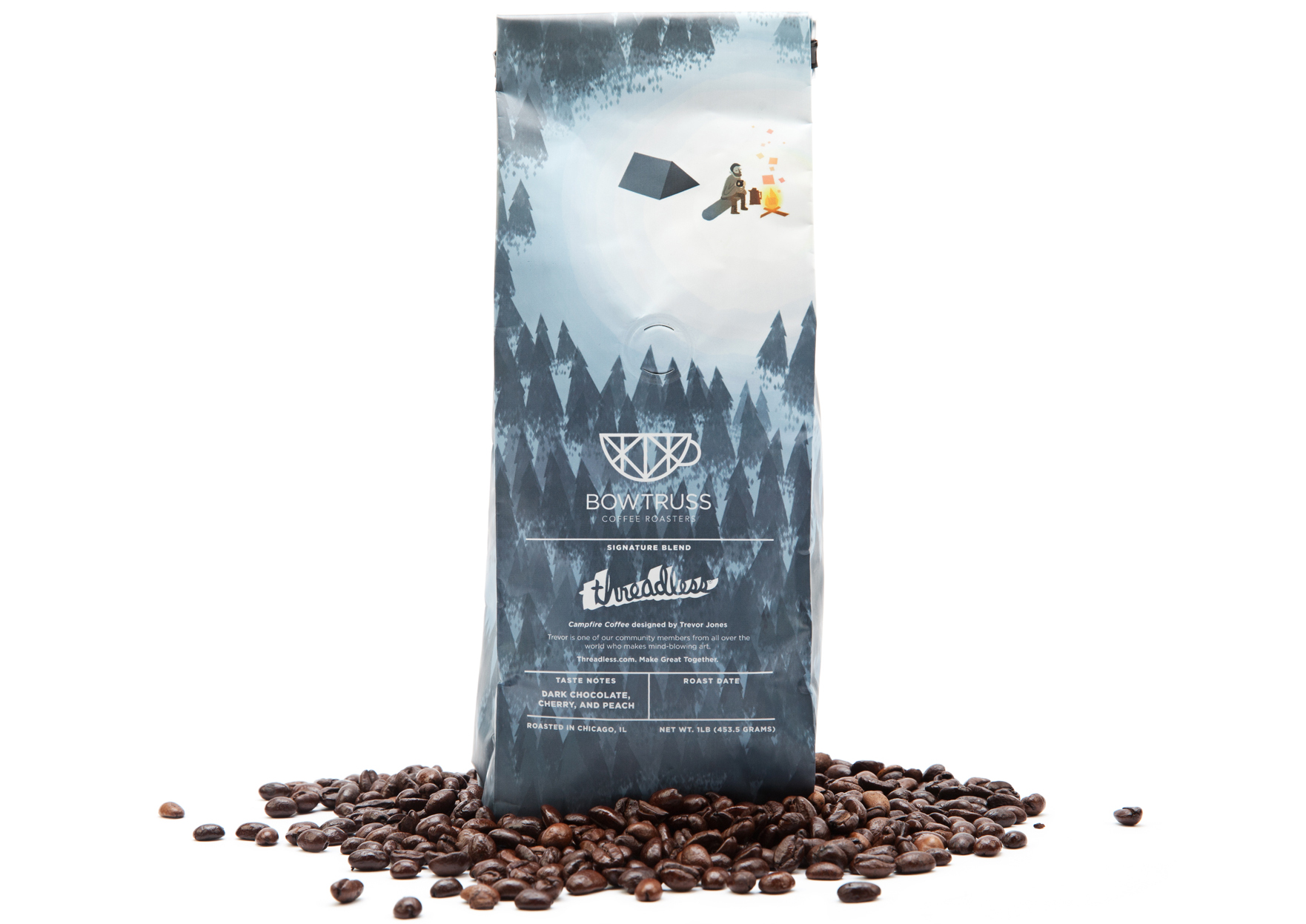 Your challenge
Create a design for Bow Truss Coffee Threadless Specialty Blend bags.
Coffee is so hot right now. And not the drive-through kind that tastes like hot water infused with dirty socks. We're talking about quality cups of coffee that start with a small farmer who puts as much care into harvesting his bean crop as a barista puts into preparing the perfect pour-over. The kind of coffee that infuses way-too-early mornings and all nighters with tasty deliciousness (and caffeine).
In Chicago, Bow Truss Coffee Roasters recently opened its roasting and coffeeshop doors with the mission to serve classy coffee to cool people. This challenge is your chance to see your artwork on bags of the Threadless Specialty Blend, a heavier body coffee blend originating from Colombia and Mexico with notes of cherry, dark chocolate, and peach.
Bow Truss will serve the Threadless Specialty Blend at their Chicago coffeehouse and add it to the lineup of coffee blends available for sale worldwide on their site. There are no color restrictions on your design. Your design will be printed on the entire bag. So download the template, pour yourself a cup of coffee, and get started!
Legal stuff
Here's how it works
1

Get your idea ready to submit

Read our submission guidelines to learn about printing techniques, creating high resolution artwork, preparing presentation files, and following the rules! You'll also find color specifications and downloadable assets like templates and blank photos for mockups.

2

Submit to the challenge

Once you've prepared your design files, it's time to submit it for scoring! Follow the instructions and fill out the form (the whole thing).

Submissions have closed.

3

The community scores your design

For 7 days, the Threadless community scores your design 1 to 5 and leaves comments. These scores and comments help us pick which designs to print. You're encouraged to promote your design to friends, family, and the rest of the Internet!

4

If your design is printed, you'll get:

$2000 cash

$250 Threadless gift code

The full line of Bow Truss coffee, plus one bag of coffee a month for a year

Handmade, screen printed wood plaque of your design
Bow Truss Coffee Roasters
Bow Truss is a collective of veteran coffee professionals, coming together for the first time to create our ideal roasting company. We're coffee minimalists; we know it doesn't take thousands of dollars worth of gear to make a perfect cup of coffee. Our coffees are curated and roasted in our roasting house in Lakeview, Chicago.
bowtruss.com