The results are in!
Together, we've made something great! After 73768 votes on 178 designs, here's what was chosen. Thanks for playing!
by Jeremy Ryan Pettis
aka Jeremyhead
Chicago, United States
Buy it Now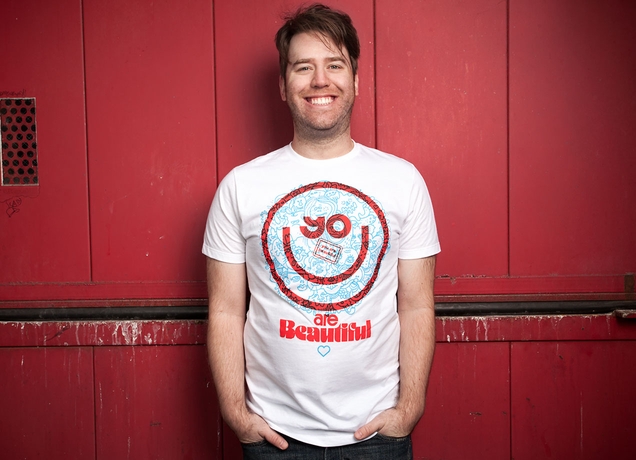 Your challenge
Create a beautiful t-shirt design.
You Are Beautiful is a little sticker campaign that's trying to make a big difference in how people feel about their self-worth. Since 2002, the You are Beautiful community has slapped more than 500,000 of these little reflective stickers on lamp posts, light switches, mirrors, and wherever else stickers stick across the world. Now you can do your part to help spread this simple, powerful message so it sticks with even more people!
Your challenge is to create a beautiful t-shirt design. Just as the You Are Beautiful project and message are completely open, you can interpret this challenge however you like (submitting a tee with the You Are Beautiful logo or text doesn't count). Your design doesn't need to change the world. But if it can change one person's world, we'll take it!
So put down the hair spray and mascara. You're beautiful without 'em! Pick up your sketch pad and get to work on making somethin' pretty.
Legal stuff
Here's how it works
1

Get your idea ready to submit

Read our submission guidelines to learn about printing techniques, creating high resolution artwork, preparing presentation files, and following the rules! You'll also find color specifications and downloadable assets like templates and blank photos for mockups.

2

Submit to the challenge

Once you've prepared your design files, it's time to submit it for scoring! Follow the instructions and fill out the form (the whole thing).

Submissions have closed.

3

The community scores your design

For 7 days, the Threadless community scores your design 1 to 5 and leaves comments. These scores and comments help us pick which designs to print. You're encouraged to promote your design to friends, family, and the rest of the Internet!

4

If your design is printed, you'll get:

$1,000 cash

$250 Threadless.com gift certificate

WACOM graphics tablet

Matthew Hoffman's 'Connect or Dialogue Trying' 100-pieces art collection (valued at $1,500 - no frames included)

Hand-cut 'You Are Beautiful' wooden sign (valued at $1,000 - approx. 3 inch x 24 inch)

Matthew Hoffman original shadow box art piece (valued at $500 - approx. 10 inch x 10 inch)

500 'You Are Beautiful' stickers (valued at $50)
You Are Beautiful
'You Are Beautiful' is a simple and bold message meant to improve lives on a personal level. In the past decade over a half million 'You Are Beautiful' stickers, installations, and exhibitions have traveled around the world. Matthew Hoffman, who originally initiated the project, considers himself the custodian, keeping the lights on and the floor clean. He points to the incredible global community that has championed and embraced this message.
you-are-beautiful.com